Teyana Taylor's White House outfit sent a political message and we're in love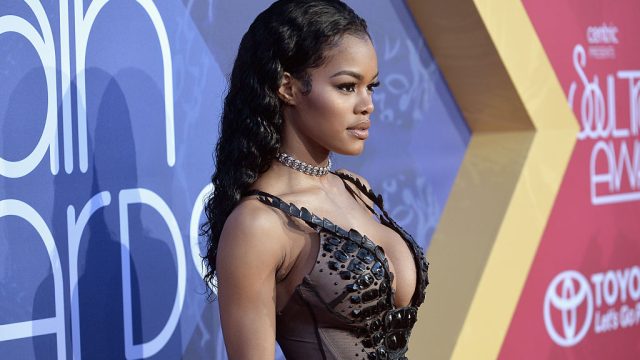 The responses to this week's presidential election have been all over the board, but we can all agree on one thing: They have been loud. Maybe more than any other presidential election in many of our voting lifetimes at least, Donald Trump's election has been incredibly divisive. The protests have been extensive, and of course, we're all constantly inundated with social media posts.In her own statement about the incoming administration, Teyana Taylor channeled Angela Davis at the White House.
Wearing a deep red pantsuit, oversized hoop earrings, and her hair in an afro, Teyana posed in front of Hillary Clinton's portrait and shared the picture to Instagram.
She's also mimicking Hillary Clinton's pose in the portrait, in addition to wearing Clinton's signature pantsuit look. She's paying homage to two great, powerful women in one picture.
Teyana followed up that Instagram with another, captioned with an Angela Davis quote. While we by no means want to put words in Teyana's mouth, we think we can definitely guess who she's not supporting with these images, and we love that she chose to do so in the White House. Protest level: expert.
"I am no longer accepting the things I cannot change... I'm changing the things I cannot accept — Angela Davis"
We're definitely going to keep these wise words in mind going forward.