Teyana Taylor gets her glowing skin by using a cleansing bar from this WOC-focused skin care brand
Teyana Taylor is more than just abs, honey. The singer, dancer, rapper, and actress is all kinds of hair goals, style goals, mom goals, and skin inspo. Yesterday the triple threat took to Instagram to show off her latest skincare obsession, the Even Tone Cleansing Bar by Urban Skin Rx ($28, here.)
The current state of social media is very #ad heavy, but there was something about Teyana Taylor's review that seemed 100% real. She credits a 3xs a day skin care regimen that includes their cleanser for a glowing complexion and we are super curious about this brand.
She writes:
"Bihhhhhhhhhhh I'm bout to go to bed but before I do I need y'all to get into this skinnnnnnnnnnnn honey!!! @urbanskinrx is my new skincare addiction. I've been using it for a couple weeks now and already see my skin glowing!! This even Tone Cleansing Bar is Everything🙌🏾🙌🏾🙌🏾 I personally use it 3 times a day but really U can just do it in the morning and before bed!!"
Fans had a lot of questions about Teyana's usage of the product and her relationship to the brand. Could it really be making that much of a difference in only a few weeks time? How effective could it be when Teyana already had clear skin to begin with?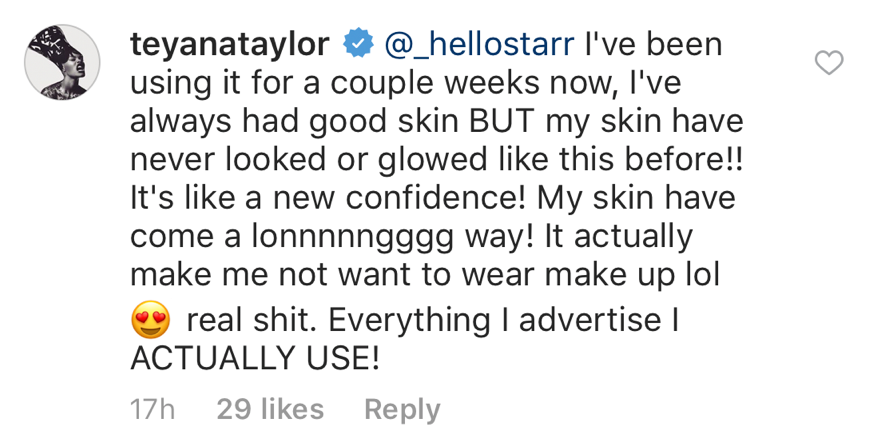 Urban Skin Rx even chimed in to assure fans that Teyana's review was legit.

Ok, we're sold.
Here's the scoop on the Even Cleansing Bar. Its list of ingredients includes coconut oil, safflower seed oil, witch hazel, and kojic acid. It comes with a small sponge that you wet and use it to make a lather. Massage the lather onto your face, wait two minutes, then rinse. If even skin tone isn't a skincare issue for ya, try the Clear Skin Cleansing Bar ($28) for oily, acne-prone skin, or the Dry Skin Cleansing Bar ($28) for dry, acne-prone skin.