This police officer answered a call expecting to find a "vicious" pit bull, but what he got were some adorable dog pics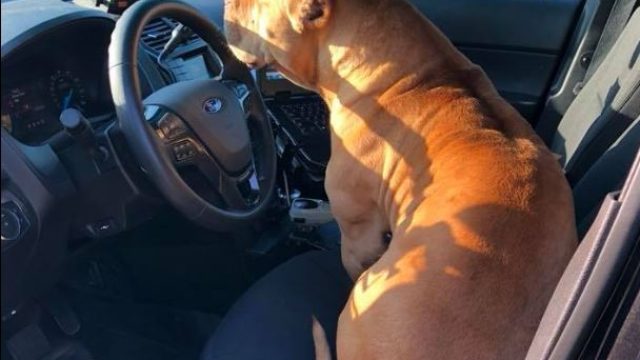 Dogs may be humankind's best friends, but even so, they can sometimes be naughty. We've heard of dogs being shamed on the internet and rescued from rooftops. And we've even seen puppers being arrested for misbehaving. But on occasion, "bad" dogs are simply misunderstood. Such was the case when one Texas police officer responded to a report about a stray dog.
The Texas-based Texarkana Police Department wrote about one officer's encounter with a "vicious dog" in an April 29th Facebook post. The post stated that officer Travis Frost had  answered a call about a "vicious dog" that day, preparing to be attacked by a snarling animal. Instead, what he found surprised him.
When Frost found the dog, he was reportedly lying on the front porch of a stranger's house. Bracing for the worst, he approached the animal, noting its pit bull-like features, and was greeted with tail wags and kisses. Before long, the officer realized that he wasn't dealing with a vicious beast — only one very good boy named Gold — and the dog jumped into the front seat of his car. Together, the new friends snapped some photos while they waited for Animal Control to arrive.
The police department concluded its post by writing that you shouldn't judge a dog based on its appearance.
"Pit Bulls have a bit of a bad reputation," the post stated, referring to the dog's assumed breed. "Travis said that, while you should always be careful around any dog that you don't know, you shouldn't automatically assume that all pit bulls are bad dogs. They might be really loving like this guy was this morning."
Thankfully, Gold's story has a happy ending. The Texarkana Police Department updated their post on April 30th to say that the doggo (who is actually an American bully and not a pit bull) had been picked up from Animal Control by his owners.
Gold's friendship with this Texas police officer warms our hearts. And above all else, it's a good reminder that while you should always approach strange dogs with caution, you should never judge a new furry friend based on breed alone. We're glad Gold made it home safely. Someone give this good boy a belly rub!