Canadian figure skating pair Tessa Virtue and Scott Moir have unwittingly become a Valentine's Day meme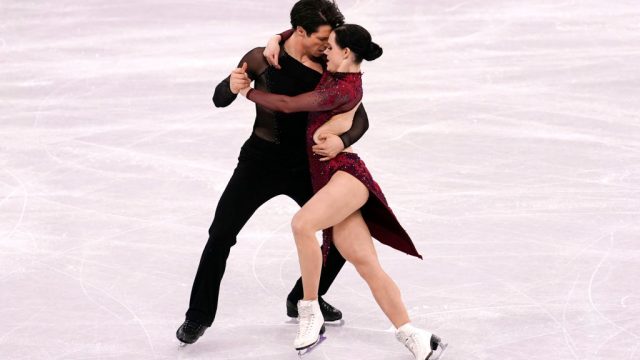 It's a nice coincidence that the Winter Olympics fall around Valentine's Day, mostly because the pairs figure skating competition is always super romantic. And this year, the internet has decided that Canadian ice dancing duo Tessa Virtue and Scott Moir are the unofficial romantic mascots of V-Day. The skating pair won the gold medal in the team figure skating event on February 12th, 2018 and rocketed to #CoupleGoals status immediately. They skated to music from Moulin Rouge!, their chemistry is insane, their routine was lit — but Virtue and Moir aren't even a romantic couple.
They've been skating together for 20 years and refer to each other as "best friends," but Moir adds that any chemistry you see on the ice is just acting.
"We're always telling stories, we're supposed to be reacting, a man and woman on the ice, it's romantic. What we have is such a cool relationship, Moir revealed in an interview with Maclean's. "It's more about a friendship, our working relationship is so strong. We take so much pride in that.
Despite not being a romantic couple, they sound like they might have the healthiest relationship…ever.
"We work hard at maintaining our partnership, but to be honest, it's just what we've come to know and depend on. I hardly remember my life without Scott!" Virtue revealed in a 2007 interview with GoldenSkate.com.
Moir also noted in 2014 that having a girlfriend outside their skating relationship was "tough." Ugh. Okay. They're just friends, we guess. But then how do you explain gifs like this:
Because of their sexy routines and obvious chemistry, Twitter is wishing them a happy Valentine's Day.
https://twitter.com/udfredirect/status/963575051529355264
https://twitter.com/udfredirect/status/962578664511610880
If these two can't make it then what hope is there for the rest of us?