Tessa Thompson says Valkyrie in "Thor: Ragnarok" is bisexual, making her the MCU's first LGBTQ character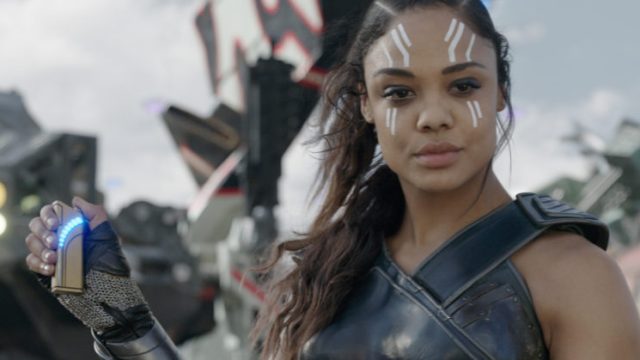 We've always loved Thor: Ragnarok star Tessa Thompson, and she's given us even more reason to love her. When a fan complained about her Thor: Ragnarok character, Valkyrie, being "sexless" on Twitter, she was quick to fire back. And in doing so, she also gave us some of the best news to come out of the Marvel Cinematic Universe.
The fan described Valkyrie as a "typical sexless marvel tomboy," which is more than a little reductive. Another fan commented, saying that Valkyrie is a lesbian in the comics, but Tessa Thompson was quick to correct.
Her full tweet reads:
"She's bi. And yes, she cares very little about what men think of her. What a joy to play!"
It's about time we get some LGBTQ representation in the MCU. We're not sure who's more excited about it — Tessa Thompson, or us.
It's amazing to have a bisexual woman at the center of a major movie, and that the actress is celebrating that! Especially since Marvel's track record on LGBTQ representation hasn't exactly been stellar.
Guardians of the Galaxy director James Gunn, however, does believe it's possible that there are already LGBTQ characters in the MCU — the movies just haven't addressed their sexuality.
"There's a lot of characters in the MCU and very few of them have we delved into what their sexuality is whether it's gay or straight or bisexual," he said in an interview with The Guardian. "We don't really know, so I imagine there are probably gay characters in the Marvel universe and we just don't know who they are yet.
That may be the case, but we don't know for sure — and representation matters. So it's really important that we're finally getting an LGBTQ character with Valkyrie. More of this, please, Marvel!