Tessa Thompson is still game for an all-female Marvel movie, but frankly, she thinks the ladies are already "ruling supreme"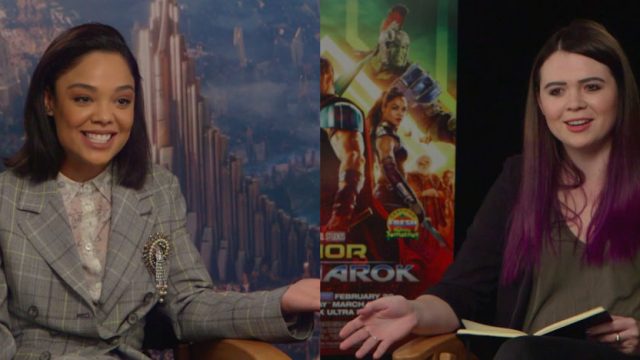 In Thor: Ragnarok, Tessa Thompson plays the fierce as hell Valkyrie, who sells Thor (Chris Hemsworth) as a fighter of sorts to the Grandmaster (Jeff Goldblum) when he stumbles upon Sakaar, but eventually teams up with the God of Thunder himself to take down his scheming sister, Hela (Cate Blanchett). Like I said, Valkyrie is FIERCE AF.
And that's certainly something that appealed to Tessa Thompson when signing on to play Valkyrie.
"I felt like [director Taika Waititi] was gonna create a female character, a heroine that sort of bucked convention, that felt unlike maybe what you've seen before and I just loved her," she told HelloGiggles. "I thought that she was so interesting — taking someone who is a reluctant hero, who has sort of fallen from grace and lost a sense of purpose and, in the course of the movie, finds it."
Valkyrie has her flaws but, at the end of the day, she fights for what's right — and is pretty fucking inspiring, giving us fans a whole lot to be excited about.
But the excitement doesn't stop there: Last October, Thompson expressed her interest in making the much-discussed all-female Marvel movie actually happen. "Recently, I marched up with a couple other women [who also] work in Marvel," she said. "We went up to Kevin [Feige]. 'What about a movie with some female superheroes? Just like, all of them.'"
And guess what? She's still super down to make that happen. But Thompson points out that A) she hasn't exactly been spearheading the potential project, as some have made it out to be, and that B) an all-female Marvel movie would be great, but the women of the MCU are already kicking ass.
"To be fair, I only talked about it once. Then, the press has asked me about it a bunch and asked Kevin a bunch too so I think maybe that points to the fact that audiences are excited just to see women at the forefront of stories."
YOU CAN SAY THAT AGAIN.
"If it were to ever happen in the form of a team-up, then that's the cherry on top, but I feel like the women of Marvel are already really ruling supreme in Marvel," she added, after pointing to Captain Marvel, Black Widow, and the women of Black Panther, "and it makes me so excited to be involved."
Speaking of her involvement, we know that Thor comes across the Guardians of the Galaxy in Avengers: Infinity War but, like, will Valkyrie be there too? PLEASE SAY SHE'LL BE THERE. "Keep hope alive. I would never tell someone not to be hopeful."
We'll take it. But for what it's worth, we really, really hope she's in Infinity War (in theaters on April 27th). Until we get an answer on that front, we'll be catching up with Valkyrie (and Tessa Thompson!) again in Thor: Ragnarok, which is now available Digitally, and on Blu-ray, DVD, and On-Demand.