Tessa Thompson wants a Marvel movie about *superheroines*, and YES PLEASE
Thor: Ragnarok star Tessa Thompson is calling for a movie that we can all agree would be a welcome addition to the Marvel Cinematic Universe: A *superheroine* movie.
While speaking at the Thor: Ragnarok press conference in Los Angeles on Wednesday, Thompson revealed that she and her fellow heroines put the request in with Marvel Studios president Kevin Feige.
"Recently, I marched up with a couple other women [who also] work in Marvel," detailed Thompson, who plays Valkyrie in Thor: Ragnarok. "We went up to Kevin. 'What about a movie with some female superheroes? Just like, all of them.'"
For Feige's part, he welcomed the idea. He told the crowd, "It was a pretty amazing moment to have your shoulder get tapped and turn around and every female hero you have is standing there and going, 'How about it?'"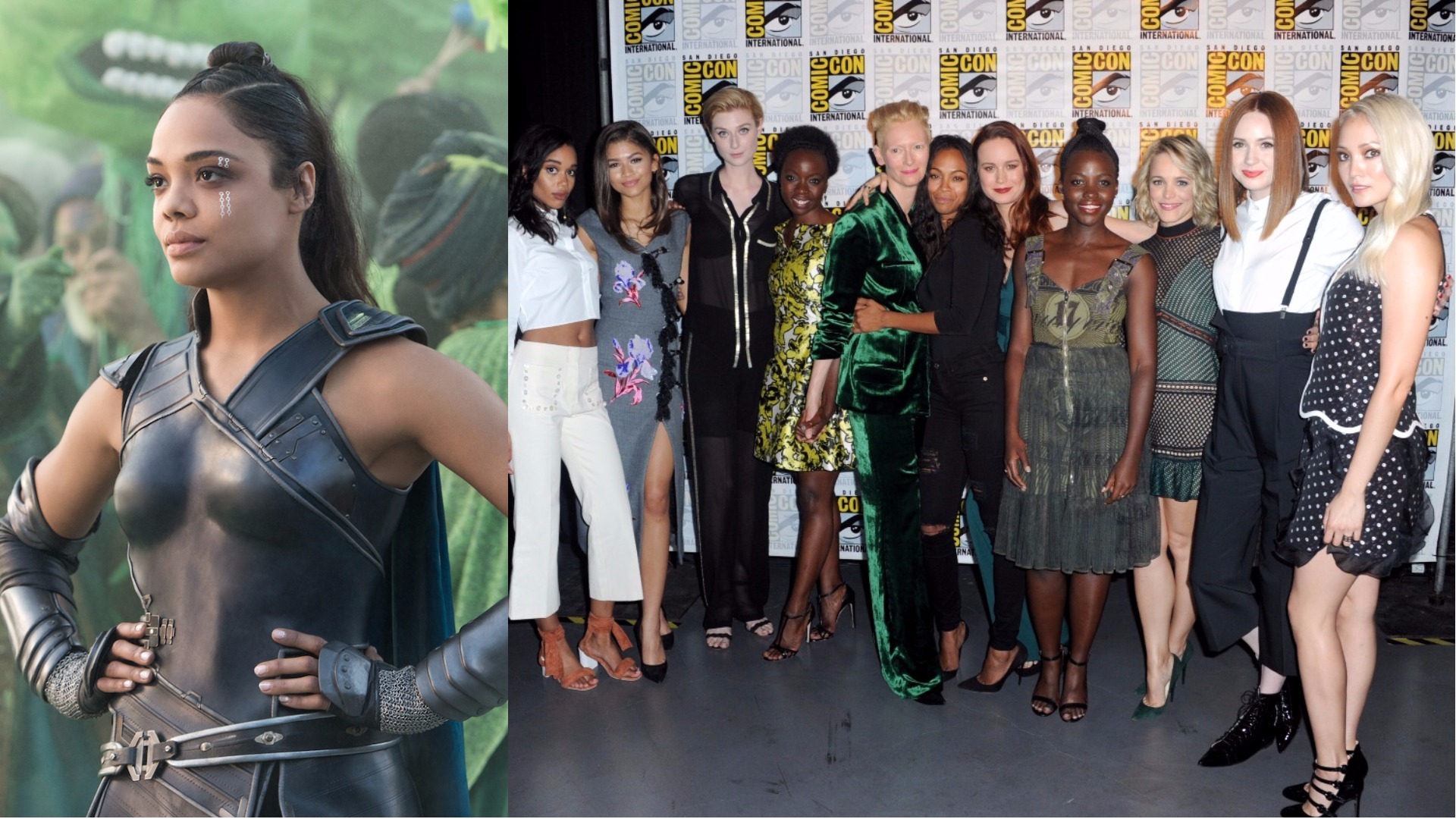 We imagine the movie would look something like this, which would be amazing. So like, can we make this official, or what? No but really, especially because that guy who you wouldn't like when he's angry, Mark Ruffalo, already has an idea for what the group of badass ladies should be called. His suggestion being "The Femengers." Do with that dad joke (we think?) what you will.
Thompson's suggestion of a superheroine-centric film was far from the only inspiring thing she said at the press conference.
She also spoke about how it didn't matter to her that her character is white in the comics.
"I didn't feel any pressure with that specifically," she said, when asked how she felt playing a character that was canonically white. "The things I thought about particularly with Valkyrie were mass and size. 'I'm short.' Or, 'I'm not buff enough.' [Valkyrie is] arguably as strong as Thor. How do I stand next to a person like Chris Hemsworth and feel like that's true."
"Norse mythology is mystifying, fantastical, and glorious, and also very confusing," she continued. "It doesn't make a lot of sense. I remember someone online saying, 'Tessa Thompson playing Valkyrie is white genocide,' which is just as mystifying as Norse mythology."
Then she completely warmed our hearts, speaking to why race didn't play a factor for her in this role: "The thing that I'm tasked to do with any character that has its own iconography is to capture the spirit of the character. And I think the spirit of all of us, at the risk of sounding cheesy, has very little to do with what color we are."
Perfectly put, if you ask us. And that's even more reason to be excited about Thor: Ragnarok, which lands in theaters on November 3rd.