Tessa Thompson will play infamous jewel thief Doris Payne in her new movie, and this sounds criminally good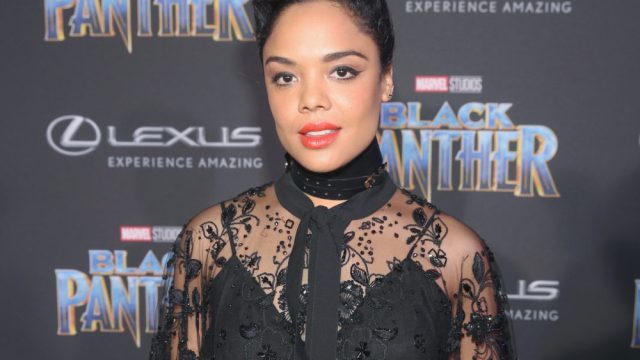 Tessa Thompson is the poster child for on-screen badassery. Her acting resume is adorned with a slew of strong female characters — including the sword-wielding Valkyrie in Thor: Ragnarok, and singer-songwriter Bianca in Creed — all of which she portrayed marvelously. Never shying away from challenging roles, Tessa Thompson is now slated to play a criminal, but not just any criminal: She'll star as THE Doris Payne.
Can you hear us screaming YAAASSS?!
The 34-year-old actress just signed on to lead a heist drama about the life and exploits of Doris Payne, the infamous jewel thief whose robberies spanned six decades, according to Variety. And apparently, the upcoming film is akin to Catch Me if You Can and The Thomas Crown Affair, aka it's sure to be fast-paced and gripping, with lots of chases. Yup, it's sounding pretty good, and we're ready to watch RIGHT NOW.
For those who are unfamiliar with Doris Payne, here's the 411:
The legendary jewel thief is notorious for, well, stealing luxury jewelry. She would walk into high-class shops posing as a well-off woman, ask to see an assortment of pieces, and use her charm to engage with the clerks while pocketing a few items. Her robbing spree traversed across the globe, the most notable one being a heist in Monte Carlo, which involved stealing a diamond ring valued at $500,000. Throughout Payne's six-decade "career," she used more than 30 different aliases, 11 Social Security numbers, and nine passports to avoid getting caught.
Tessa Thompson — who's also known for Dear White People — will co-produce the biopic herself, along with Codeblack Films' Jeff Clanagan, now that they've obtained Payne's life rights. While we (impatiently) wait for further developments, we can catch Tessa Thompson in the sci-fi film Annihilation, which hits the theaters on February 23rd.
We can't wait for all the Tessa Thompson projects headed our way!