Body-positive model Tess Holliday clapped back at Piers Morgan after he insulted her Cosmo cover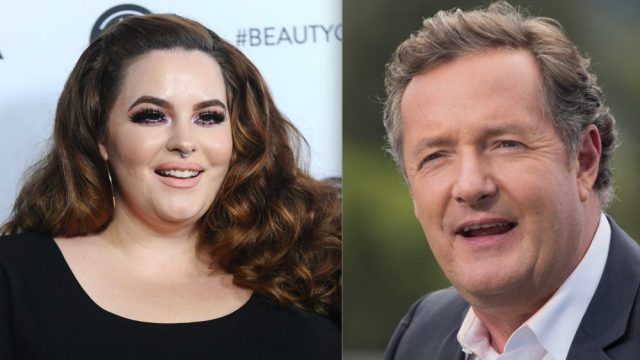 For the past several years, model Tess Holliday has been a body-positive champion on social media—no easy feat in an age of online trolls. She's never afraid to shut down haters, and empowers her followers to love themselves unconditionally.
Holliday appeared on the cover of the October 2018 issue of Cosmopolitan U.K., and in her interview, she gets super candid about her mental health and the process of learning to feel comfortable in her own skin. But of course, body shamers came out in full force, accusing Holliday of promoting obesity and "unhealthy" life choices—including conservative TV personality Piers Morgan, who posted a photo of Holliday's Cosmo cover to his Instagram page.
In his caption, Morgan writes, "As Britain battles an ever-worsening obesity crisis, this is the new cover of Cosmo. Apparently we're supposed to view it as a 'huge step forward for body positivity.' What a load of old baloney. This cover is just as dangerous & misguided as celebrating size zero models."
Holliday was quick to respond, though she didn't technically mention Morgan by name. And her clapback is flawless.
She wrote, "To everyone saying I'm a burden to the British health care system, I'm American so you don't have to worry about my fat ass," adding, "Worry about what horrible people you are by whining about how me being on the cover of a glossy magazine impacts your small minded life."
https://twitter.com/udfredirect/status/1035179346162372612
Mic, drop.
Let's call out Morgan's comments for what they are: fatphobic and ignorant. Not only is there zero way to gauge a person's health based on their weight, but Holliday's Cosmo cover is a major step forward for inclusivity. The mainstream media has promoted a narrow and homogenous standard of beauty for too long, and featuring diverse body types of all shapes and sizes on the covers of popular outlets will only help women in the long run.
We think Holliday is a perfect Cosmo girl: Yes, she's beautiful, but more importantly, she empowers other women to love themselves. Here's to  hoping that more magazines take their cue from Cosmo…because it's long overdue.