Tess Holliday just posted the most endearing baby bump pic on Instagram, and it will make you smile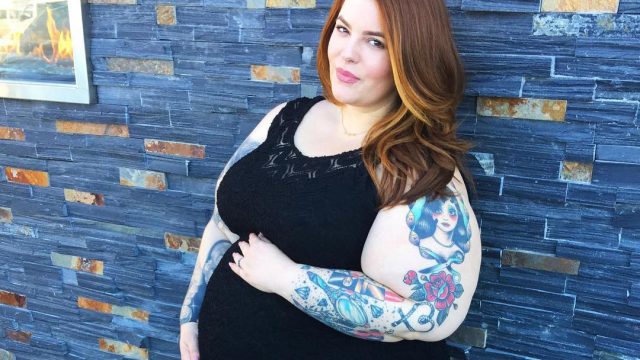 Plus-size model Tess Holliday has taken her body-positivity up a notch since announcing her pregnancy. Perfect example: when critical baby bump comments began to flood her Instagram, Tess inspiringly replied, "I will continue to live unapologetically, to thrive in this body, prove the naysayers wrong & laugh at the ignorance." Staying true to her word, Holliday has done just that.
Despite all the hateful comments that have picked apart her pregnant body, Tess has continued to embrace her fabulous figure as she goes on living her life. Just yesterday, the model was celebrating Memorial Day in a pool, wearing a bikini we'd all love to have in our lives, when she shared a super cute, super endearing baby bump shot.
Tess' fun photo features her beautiful, 38-week-old baby bump doubling as something unexpected: A cup holder. With a red solo cup balancing atop her belly, Holliday was able to relax in the pool and keep her beverage close by at the same time. She captioned the photo: "Showing off my #babybump skills ?"
Rather than hiding her baby bump in the face of negative comments, Tess prefers to remain empowered. She prefers to show the world just how much she loves her body – pregnant or not. With this in mind, we cannot wait to see what Tess has to say on Instagram next.