Tess Holliday posted the perfect message about moms and sexuality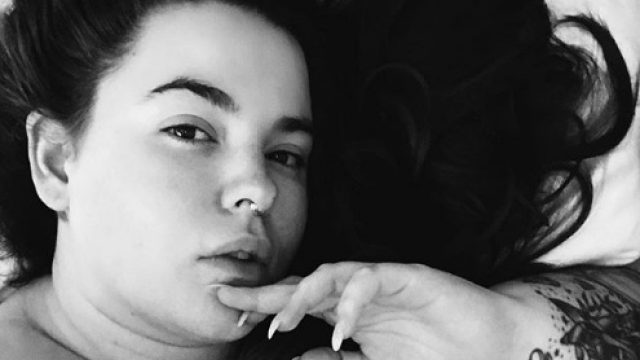 Model Tess Holliday has been at the forefront of the body positivity movement on social media for quite a long time. She constantly encourages her followers to be proud of their bodies no matter their size or shape, and we adore her for it. Her latest Instagram selfie is a simple reminder that moms of all sizes are sexy, and we are cheering for the message behind her photo.
Tess welcomed a baby boy last year, and we've loved watching her journey into motherhood as she shares gorgeous shots of her with her new family. She's also been candid about the battle with her post-baby body, and her experiences with breastfeeding her son, Juniper Bowie.
She just posted a simple, yet powerful, message to moms about feeling sexy after giving birth, and it's what we need to hear right now.
Tess shared the gorgeous selfie with an empowering caption to remind her followers that every mom deserves to feel sexy, period.
"Gentle reminder to myself that as a mom, I deserve to feel sexy and desired," she captioned the post. "Fat women and moms are robbed of our sexuality so I'm here to tell you to stop that shit."
Of course, it should go without saying that all women deserve to feel empowered in their sexuality, but even the most confident women can feel unfamiliar in their bodies after having a baby.
We are so appreciative of body positive warriors like Tess for sending these messages out into the world, and hope they continue to shatter unrealistic beauty standards that all women are faced with. A post-baby body is just that: a body that has had a baby, and each one is beautiful and flawless in its own way…no matter what body-shamers may try to have us believe.