10 terrifying real ghost stories to listen to if you never want to sleep again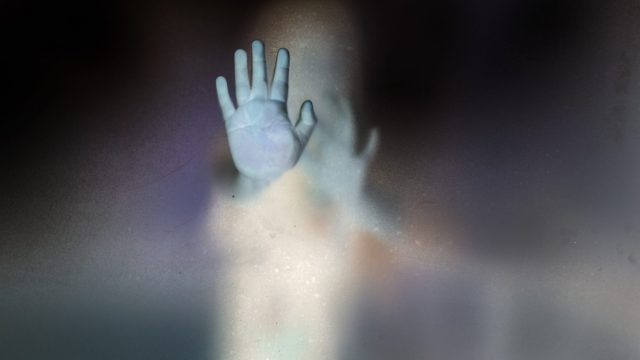 The costumes are great and the candy is yummy, but the real heroes of Halloween are the ghost stories. And no, we don't mean movies like Hocus Pocus and Practical Magic. (Though don't get us wrong, it definitely wouldn't be Halloween without Hocus Pocus and Practical Magic.) We're talking about true stories of haunted places, paranormal sightings, and horrifying phenomena that can't be explained. Is there anything spookier than the idea that a paranormal encounter could actually happen to you?! We don't think so.
We love scary stories all year 'round, but there's something extra creepy about hearing them during the month of October—and especially on Halloween. If you're like us, you love watching creepy videos of ghosts caught on camera. You live for fascinating ghost documentaries. And you're obsessed with haunted hotels. So in honor of October 31st, it's only right to feature some of our favorite spine-chilling true ghost stories.
It's time to sit back, try to relax, and listen to these terrifying true ghost stories while you wait for trick-or-treaters. Just don't blame us if you have trouble sleeping tonight.
1This scary story about a Ouija board that haunted someone for 40 years
Real Ghost Stories Online is one of the freakiest podcasts around, and Ouija board stories are some of the scariest topics ever. Listen at your own risk.
2This story about a skinwalker that will make your skin crawl
https://www.youtube.com/watch?v=nOzh6TPcz0A?feature=oembed
If you're not familiar with skinwalkers, you might never sleep again after listening to this.
3This true crime series about a woman whose body was found two days after she disappeared
There are hours of Someone Knows Something content just waiting for your true crime-loving consumption.
4This account of an overnight stay on a haunted ghost ship
https://www.youtube.com/watch?v=Xr2B_FrPyjA?feature=oembed
The Queen Mary is notorious for paranormal activity, and this video will scare you to your core.
5This story about a senior care center that will keep you up all night
Nope, nope, nope.
6This terrifying story about a haunted doll
https://www.youtube.com/watch?v=S8LkG4Rwtcc?feature=oembed
YouTuber grav3yardgirl has a massive collection of old dolls and doll heads. She claims none of them are haunted, but this story about the scariest doll she's ever encountered will give you chills for days.
7This horrifying story about a young girl who saw ghosts in her own home
Because the scariest four words a kid can say are "I saw a ghost."
8This account of an overnight stay at The Stanley Hotel
https://www.youtube.com/watch?v=DGAfyV1OGs8?feature=oembed
The Stanley Hotel, which inspired Stephen King to write The Shining, is one of the most haunted places in America.
9This eerie tale of kids who have black eyes
This episode of That One Time I Was Abducted by Aliens will make you think twice about cute kids in Halloween costumes.
10The "Dear David" saga
https://www.youtube.com/watch?v=jE24IsMHnNs?feature=oembed
https://www.youtube.com/watch?v=zfxIbP4SqEo?feature=oembed
https://www.youtube.com/watch?v=l88TPN2XT_E?feature=oembed
Have you read Adam Ellis's tweets about the ghost of a dead child trying to kill him? Good luck sleeping tonight after listening to the whole story.