Tequila lollipops are now a thing and, even better, you can make them at home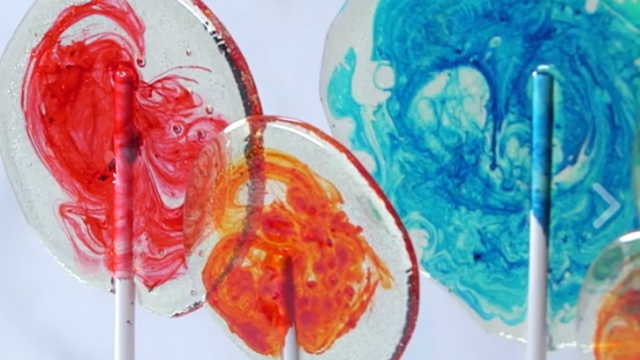 Okay, the next time you want a margarita, think again. Tequila lollipops are now a thing, reported Cosmopolitan.com, and, even better, you can make them at home. Yup, we know — yum! Spiked candy perfection.
Of course, you may remember when we told you about rosé gummy bears. Then there was also the time we told you about wine ice cream. But, tbh, tequila lollipops are taking the mix-our-favorite-snack-foods-with-alcohol to the next level. Not only are they delicious, but they're also fun to look at — plus, ~super easy~ to make…for those of you 21 and older, of course.
Let's take a look at how Cosmo Bites made the "Tequila Marble Pops."
Btw, they adapted the spiked lollipop recipe from Sugar and Cloth. If you're more of a learn-by-doing-and-watching type of person, this video's for you.
Hint: The key ingredients are water, corn syrup, and sugar.
Sooooo easy, right?!
And, as you saw, you can get as creative as you want with the colors you blend into the pops, and so on. Maybe you can even add some crunchy candy into the mix, like broken up lime-flavored Jolly Ranchers. Mmmm. A mini margarita on a stick!
Whether you make a batch for yourself or for a friend, they're fun to make. Plus, they're perfect to bring to a party, amirite?!
As a recap, here's how to make them.
— Stir together ¾ cup water, ½ cup corn syrup, and 3 cups of sugar in a saucepan. Let the mixture boil without stirring it.
— Add a ½ cup of tequila, then stir quickly.
— Remove the pan from the heat and spoon it onto a silicone mat.
— Dip the end of each lollipop stick into food coloring and then swirl it through each candy dollop to your heart's content.
— Eat. (Or should we say "drink"?!) ? And eat some more.
Not only can — and should — you invite friends over to help you eat all the tequila lollipops, but you can — and should — invite them over to help make them, as well. We definitely know what we're doing next weekend.