9 things to know if you're doing teletherapy for the first time, according to experts
Welcome to #Adulting, the ultimate breakdown for all your grown-up needs. These articles are here to help you feel less alone and answer all your personal, financial, and career questions that weren't answered in school (no judgment, we get it!). Whether you're looking to find out how to tackle laundry or you want a deep breakdown on how to collect hazard pay—we've got you covered. Come back every month to find out what life skills we're upgrading next and how.
As coronavirus (COVID-19) cases top one million here in the U.S. and three million worldwide, stress and anxiety levels have drastically jumped through the roof. CNN reported that, in March alone, the Disaster Distress Hotline witnessed an 891% increase in calls as Americans try to make sense of the uncertainty that lays before us and the "new normal" that is likely to follow. With tensions so high, many of us are looking for someone to talk to (aka a professional who can lead our wild thoughts and fears in the right direction). But because in-person therapy is impossible to do right now, teletherapy—or remote therapy—is the next best thing.
"COVID-19 has affected almost every aspect of our lives," Shobin Uralil, co-founder and COO of Lively, a health savings account (HSA) provider, tells HelloGiggles. "Among rising unemployment, looming healthcare costs, and uncertainty over when and if life will ever go back to normal, we're seeing unprecedented levels of emotional distress." Because of this, Uralil stresses that Americans need to have access to preventative and mental health treatments now more than ever. The good news is that the CARES Act now considers telehealth and virtual mental healthcare as medical essentials, which is especially important for the elderly and disabled.
But while teletherapy might seem impersonal at first, therapists who have been seeing their patients through telecommunications find it to be even better than having regular, in-person sessions.
"There is actually a stronger bond and connection as you have each other's undivided attention," Dr. Moe Gelbart, Ph.D., director of practice development at Community Psychiatry, tells HelloGiggles. "In addition, telemedicine allows you to do things you could not do in an office visit. If indicated and agreed upon, couple or family sessions are easier to put together, and it's even possible to have a family session with family members living in different geographic locations." Plus, travel and wait times are eliminated, too.
If you're feeling like the world is too much to handle right now, teletherapy just might be the right choice for you. Here's what you need to know before you book your first appointment.
1 Teletherapy is HIPAA compliant.
As is the case with all medical appointments, teletherapy is also covered by the Health Insurance Portability and Accountability Act (HIPAA). In other words, your privacy is first and foremost, and by law your therapist can't share any information about you with anyone.
"An important piece of teletherapy is being able to feel confident that your sessions won't be overheard by family members or roommates," Jennie Steinberg, an L.A.-based licensed marriage and family therapist and owner of Woods Therapy Center, tells HelloGiggles. So as long as you can find a quiet place, free from the prying eyes and ears of family members or roommates, what you say in your teletherapy session is just as confidential as it would be in a conventional therapy session.
2 Find a comfortable and quiet place for your session.
Although you may be housebound at the moment, it's imperative that you find a place where you feel secure in having an open and honest conversation with your teletherapist. If that means hiding out in the bathroom or in your car, then do that. Just make sure you're cozy and have tissues on hand (you know, just in case).
"Make sure you're in an environment free of noise or distractions," Emma Donovan, MA, LPC, PLPC, tells HelloGiggles. "Let any housemates know you're having a private call and snuggle up with your favorite blanket and a cup of tea."
3 Make sure you have good lighting and a strong internet connection.
While Donovan says to prepare for "lag time" when it comes to video and sound, it's also important to have the right lighting and a strong internet connection to make those potential lag-time moments as brief as possible.
Dr. Priyanka, a board-certified psychiatrist and medical director for Community Psychiatry, tells HelloGiggles: "If possible, [having a] desk and chair set up is ideal for telemedicine as it allows patients and doctors to make virtual eye contact. This is a significant part of the assessment for patients coming in for mental health care."
Also, make sure to have your computer or phone fully charged. You don't want to scurry, looking all over the place for your computer or phone charger halfway through a session.
4 Save the alcohol for later.
According to a report by market research firm Nielsen, weekly alcohol sales have jumped 25 to 55% since the pandemic. While a glass of wine may make you feel a bit more relaxed either before or during your session, it's a serious no-no. Alcohol heightens emotions and clouds rational thinking—not exactly the best combo for a therapy session.
"Alcohol and drug use are not permitted during telehealth sessions," Kate Loewenstein, Chicago-based LCSW and the owner/founder of Loewenstein Counseling Group LLC, tells HelloGiggles. "As with in-office appointments, clients must be sober in order to get the most out of their appointment as well as to meet ethical guidelines."
5 Stay true to your boundaries.
If you've never done therapy before, then you may not be aware that you can (and should) set boundaries with your therapist during your therapy sessions. You're not under any obligation to share anything you don't want to with your therapist, and that's something you should keep in the forefront of your mind.
"As therapists, it's important for client treatment and to the relationship that we only have information about our clients that they choose to share," Loewenstein says. "During a video session, we have insight into the intimate details of your home. Make sure that you're choosing a location for the call that protects your privacy and does not reveal information that you aren't comfortable sharing."
6 You may need to get used to teletherapy.
Whether you've been in therapy for years or it's the first time you're doing teletherapy, talking to a therapist over video can feel like a strange way to discuss your mental and emotional health. To help with this feeling, Donovan suggests pretending you're in the same room with your therapist and "looking [your therapist] in the eye, rather than at your own picture."
Frankly, you may feel self-conscious if you're looking at yourself while you're discussing potential difficult emotions. Pro tip? Put a Post-it Note over your face on the screen to help you focus on your therapist.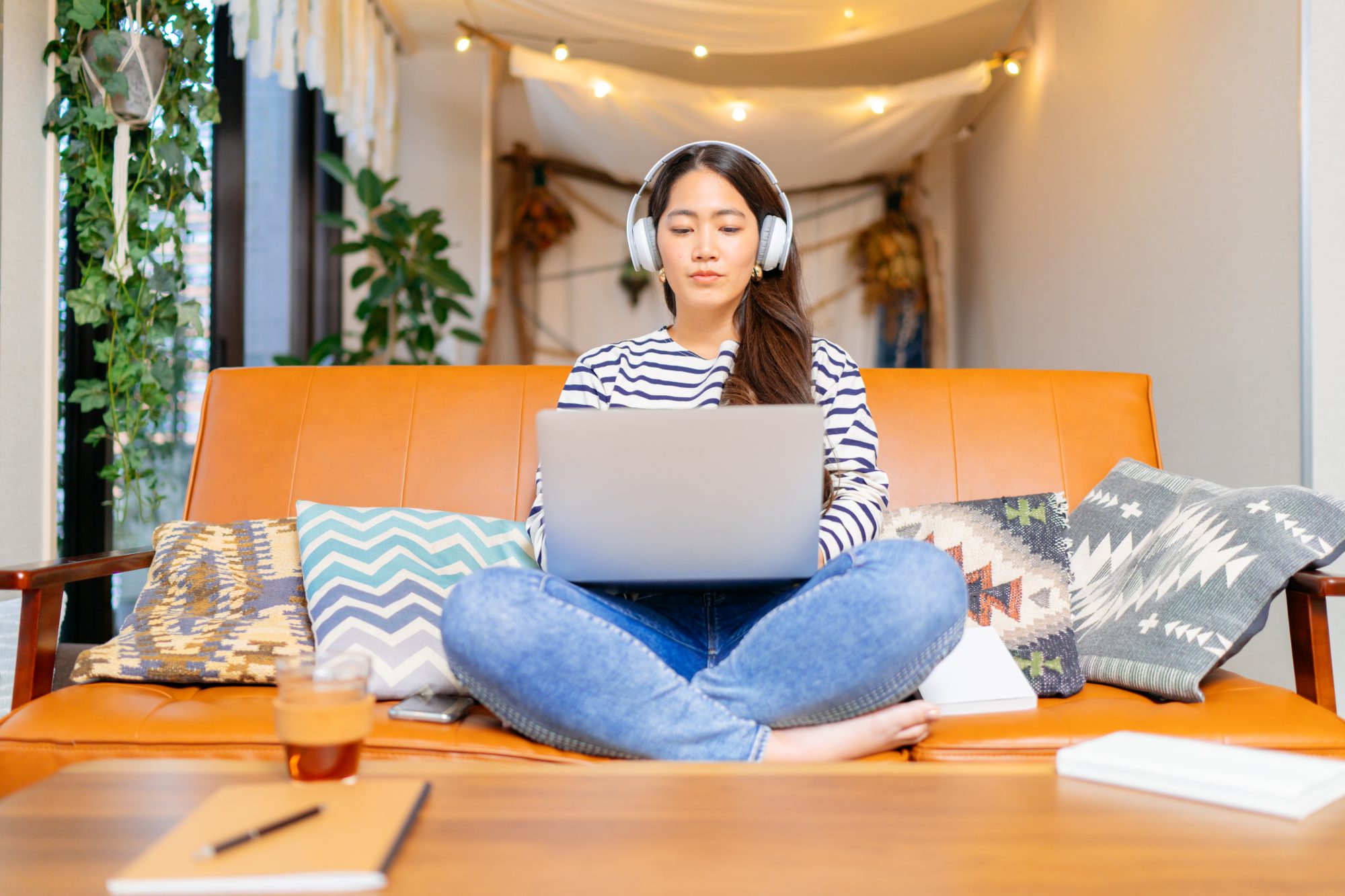 7 Be aware of Zoom fatigue.
With so many business calls, happy hours, weddings, and even first dates being conducted over Zoom and Skype, it's important to remember that you can overdo it. As Steinberg explains, this way of communicating can feel "depleting."
"The most important way to mitigate [Zoom fatigue] is to recognize it and treat therapy differently," Steinberg says. "Make sure you're not bookending therapy with other video chat commitments, and allow yourself time to brew a cup of tea, take a few deep breaths, and settle in before your session."
All forms of therapy require mental and emotional preparation. Because of this, you want to take at least 20 minutes of alone time to get your head in the game, so to speak. Give yourself enough space prior to your session to think about what you want to discuss with your therapist. Making a list of those topics beforehand helps, too.
8 Have a closing ritual.
If getting yourself mentally and emotionally prepared is necessary for a good teletherapy session, then decompressing post-session is just as important. Naturally, you're going to be extremely vulnerable during these sessions, so it only makes sense to have a closing ritual to help you process what you and your therapist just finished discussing.
Jessie Bohnenkamp, LPC, NCC, and owner of Plum Counseling & Wellness, tells HelloGiggles: "It's tough to be working, living, relaxing, and doing therapy all in the same space, so create a little cleansing routine—wash your hands, do a few stretches, write down some reflections—to signal to your brain that it can move on from your session."
9 Accept that this is likely to be the new norm.
Although experts are uncertain about what's going to happen with COVID-19, they do know that what we're experiencing now isn't the end of it nor the end of the effects of it. Because of this, it's important to realize that teletherapy just might be the new norm.
"Experts already forecast a second major wave of illness happening this summer and fall," Michael Phillips Moskowitz—founder and CEO of Moodrise, a division of AeBeZe Labs—tells HelloGiggles. "Not flu-like symptoms but emotional distress triggered or accelerated by quarantine and social distancing. That's precisely why being mindful of what we consume online—our digital nutrition (provisions of healthful content) and better digital literacy—are essential to our health, emotional resilience, and prosperity."
If you're going to discuss your mental health over the computer or via FaceTime, it's important to regulate your digital intake. According to Moskowitz, even before COVID-19, the average American spent over 11 hours a day, every day, exposed to some form of digital media. Now, due to the virus, we consume even more.
"Indiscriminate use of technology has a direct impact on emotional resilience, as proven and published in the latest clinical research and evidenced by the 300 million people predicted to experience a depressive episode this year," Moskowitz says. "Tens of millions more will endure mild or moderate symptoms of anxiety."