Tegan and Sara have fallen victim to YouTube's LGBTQ video restrictions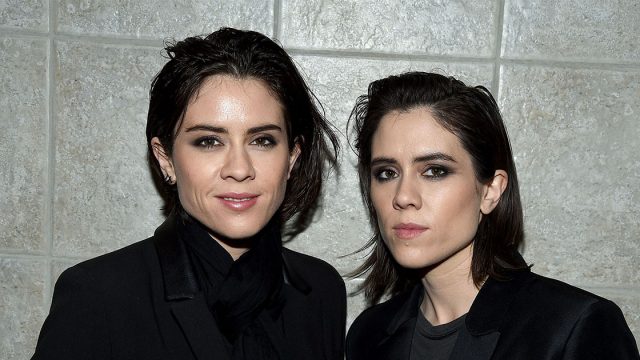 It seems that Canadian pop duo Tegan and Sara have fallen victim to YouTube's LGBTQ restrictions, and, understandably, they're not happy about it.
We reported yesterday (March 20th) that content creators were taking to social media to chastise YouTube over its "Restricted Mode," which appears to be filtering and age-restricting videos with LGBTQ content.
Many high profile YouTubers, such as Tyler Oakley, Connor Franta, and Rowan Ellis have spoken out against the move, which Gizmodo stipulates could be down to YouTube's over zealous algorithm. Indeed, since the story hit the mainstream news, many other users have been testing out the platform to see how vigorous the restrictions are.
https://www.youtube.com/watch?v=Zr6pS07mbJc?feature=oembed
It appears that YouTube hasn't just been filtering its own content creators, however, as pop duo Tegan and Sara have also shared their upset over the streaming platform filtering their videos.
Taking to social media, the band told how some of their music videos had been hidden from certain viewers.
"We made the video for 'U-Turn' with the incredibly talented Seth Bogart. It is a simple and goofy video where we drive around in a plywood car and dance in front of a green screen. I have no idea why this video would be deemed too "sensitive" by YouTube," they wrote.
https://www.youtube.com/watch?v=PpfJfSG_c1g?feature=oembed
Continuing, the band went on to say that more of their videos had been restricted, and offered an explanation for why they think this might have occurred.
"I can only assume that the content has been flagged by users who are homophobic and don't want unassuming straight people to be turned gay by seeing us dance. What a shame," they said.
YouTube's "Restricted Mode" works by a hybrid of content being "flagged" by users as being inappropriate and, it seems, key words being filtered by an algorithm.
The video streaming giant have (semi) apologized for what's occurred in a tweet, stating that "LGBTQ+ videos are available in Restricted Mode, but videos that discuss more sensitive issues may not be." 
YouTube has since shared a blog post, in which they acknowledged that the "Restricted Mode" feature "isn't working the way it should." 
"There's nothing more important to us than being a platform where anyone can belong, have a voice and speak out when they believe something needs to be changed," they wrote. "We truly appreciate your help keeping the YouTube community active and engaged on topics that matter to creators and YouTube fans alike." 
The post noted that certain videos, including clips by Tegan and Sara, Ash Hardell's video of her and her partner's wedding vows, and Calum McSwiggan's "Coming Out To Grandma," video had all been manually reviewed and they had "made sure they're now available in Restricted Mode."
Despite offering an apology, it seems that YouTube have yet to answer questions as to why LGBTQ videos were being filtered, with some content creators questioning what constituted "sensitive issues." 
We're sure that as things progress, YouTube will clarify the matter. Meanwhile, we're going to watch all of Tegan and Sara's music videos…