This teen's prom jumpsuit is breaking the internet and putting it back together again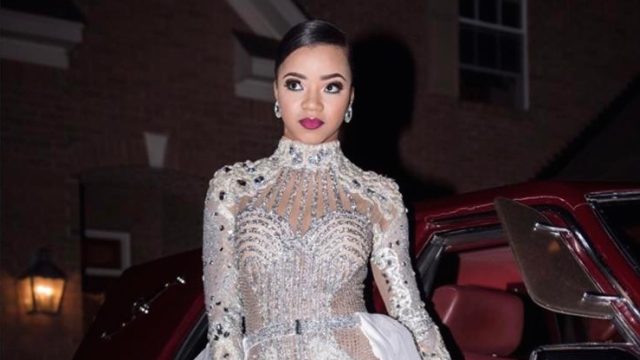 If there's one coming-of-age milestone that nearly every high schooler has been through, it's prom. For some, it's nothing — for others, it's the whole world. Regardless, most will agree that the best part about the event is shopping for it, and nailing your look. And while many choose to wear classic prom dresses, there are those who don't.
Perfect example: Faith Thigpen opted to wear an opulent bodysuit and the internet is obsessed. The jaw-dropping Angel Brinks piece is glitzy and glam, perfect for prom but with a twist. The piece looked stunning on Faith and the internet agrees.
The jumpsuit features plenty of shine, a high neck, sheer paneling, and a full train. Does Faith win prom? We think so. After all, this look has all the drama you'd ever want from a prom dress, and all the volume, too. But since it's a bodysuit, it makes a statement in a new way.
Accessorized with sleek hair, a berry lip, an opulent diamond clutch, and sky=high heels, there is literally nothing else this outfit needed. It already slayed us.
But of course, in true extra fashion, Faith served us even more glam with a matching rhinestone mask. So if you're thinking about wearing an irregular prom dress to your school's prom, then look to Faith for inspiration. After all, you want to feel your best when you dance the night away, and we're guessing a bodysuit is probably easier to dance in than a dress.
Regardless of what you pick, don't forget to work it. And check out Angel Brinks if you want to steal Faith's style.