This teen used her prom dress to make a crucial statement about Black Lives Matter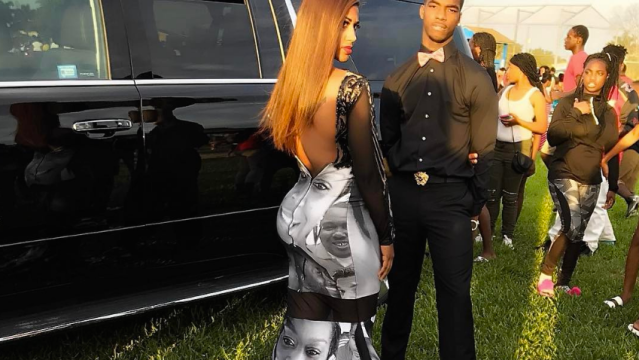 Most teenagers don't use prom to make an important political and cultural statement — but not all teens are as pioneering as 17-year-old Milan Bolden-Morris, who wore a prom dress featuring black women, men, and children who have been murdered. Featuring 15 faces, Bolden-Morris made a powerful statement about Black Lives Matter — all with the help of designer Terrence Torrence.
As BuzzFeed reported, Bolden-Morris is family friends with Torrence, who had the idea of creating a dress with the faces of black victims — particularly, victims of police brutality. Although Bolden-Morris, who is headed to Boston College on a basketball scholarship in the fall, originally had a typical prom dress, she wanted to wear Torrence's design.
https://www.instagram.com/p/BTQEgHDBcCm
Some of the faces featured are 28-year-old Sandra Bland, who committed suicide in her jail cell after being arrested following a routine traffic stop; 12-year-old Tamir Rice, who was shot by police after playing with an airsoft gun; and 17-year-old Trayvon Martin, who was shot and killed by George Zimmerman.
https://www.instagram.com/p/BTIwHgHhJor
Even Martin's mother, Sybrina Fulton, reached out to Bolden-Morris to tell her she was proud of her.
Although Bolden-Morris and Torrence have been getting mostly positive comments about the prom dress made of beaded lace and scuba material, people have made negative statements as well. Yet, Bolden-Morris is staying focused on the meaning of her dress, as she told BuzzFeed:
"I'm just praying for them because the message behind it was not for me, not to show how good I look in the dress or get publicity for me. It's about how these lives were taken under unnecessary circumstances."
By using her prom dress to highlight lives that have been lost, Bolden-Morris and designer Torrence honored the faces that have influenced the Black Lives Matter movement in an unforgettable way.