This teen girl's sweet photos of her newly adopted siblings are making people happy right now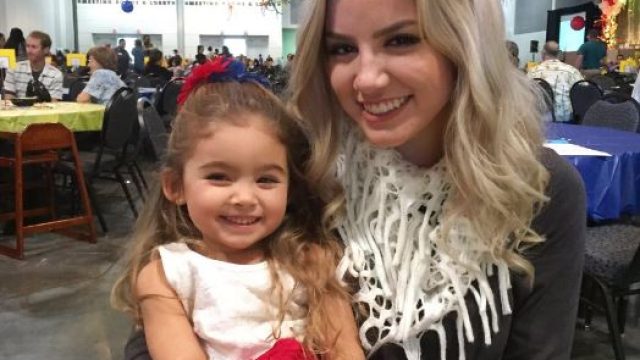 The past week has been incredibly painful for millions of Americans, and it's admittedly made some of us  (*raises my hand*) question if there's enough good in the world. Spoiler alert — there is, and a teen girl's photos of her newly adopted siblings are exactly what so many of us need to see right now.
On Tuesday November 8th, the Scudder family of California officially adopted two young children who had been in their care since December 2015. Autumn Scudder and her husband, who are the parents of three teenage girls, always wanted more kids — but health reasons prevented them from doing so biologically.
The Scudders originally planned on adopting little Veronica, but they learned she has a baby brother who also needs a home. "I had always wished we had been able to have a son, too," Autumn told BuzzFeed. "So when we found out Veronica and her new brother needed a home, there was no hesitation in our emphatic yes."
Some teenagers may not be ecstatic about having two youngsters join their family — but not the Scudder siblings. Kylie Scudder took to social media to ecstatically share photos of her newest family members.
The Scudder's community rallied around them in support by sending donations and gifts, and even organizing a baby shower/welcome home party for the family.
"Honestly, these kids have brought so much joy, love, happiness, fun, and adventure into our home… Any minor struggles we've had while learning how to function as a family of seven are completely eclipsed by the happiness they've brought to us, Autumn Scudder said.
Kylie's Twitter post struck a chord with countless people and it quickly went viral. false
Tuesday was a dark day for many Americans, but Kylie's posts provided an important reminder that there truly is so much kindness in the world.
Autumn Scudder says she's grateful the moment was captured on a day that was painful for so many people — and she hopes her family's story will encourage others to considering adopting, fostering, and helping children in need.
"Everyone can do something, she told BuzzFeed. "If everyone did one (or more) of these things, we would have a lot of kids in the world that live a little bit happier life, and they grow up to be adults that have a little bit happier story to tell.
The results of Tuesday's election left many of us feeling helpless — but the Scudder family has shown us that we're not. We may be devastated by the current state of our country, but this is not the time to throw in the towel and say, "I give up because hatred always prevails." Hatred doesn't always prevail — and now, it's more important than ever for us to do everything in our power to help those in need.