This teen created her own promposal using Photoshop, because not all heroes wear capes
When you combine the pressure of a big event, finding a great dress, and wondering who's going to take you to the party, prom season is probably the most intense part of being in high school. Which is why we're totally in love with this teen who Photoshopped her own promposal after no one asked her to the dance. Not because she's not awesome, mind you, but because her small school — SciCore Academy in Hightstown, New Jersey — doesn't throw one.
Lily Bilgrey was hoping that one of her friends at a neighboring school would ask her to be their date at prom. For whatever reason, that didn't happen. She told Seventeen, "None of my friends from [the other school] had asked me, which I was a little disappointed about. The 17-year old added:
"But I thought I could post funny pictures to kind of show that, well, if nobody's going to take me to prom, it doesn't mean I still can't do an elaborate proposal for myself."
Because no one was going to rob her of a quintessential high school moment — the elaborate promposal.
She got right to work, posting a picture of herself holding a poster asking herself to prom. She captioned the picture, "since none y'all willin to take one for the team."
https://www.instagram.com/p/BSKTTNGAISs
Her own reaction: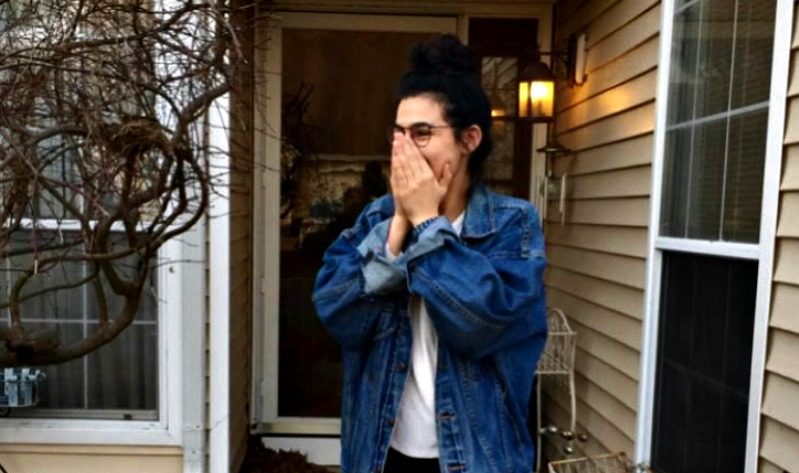 And the happy "couple."
She's a hero.
However, the teen has received some negative comments. Lily told Yahoo News that although a lot of her friends though it was funny, some people told her it was "sad." Of course, she had the best response for the haters.
"To them, I said 'I find it funny, but if you disagree feel free to unfollow me," Lily said. Bilgrey also commented that if you don't have a date to the prom yet, don't freak out. In fact, she says, go anyway.
https://www.instagram.com/p/BFDQS1ri-Ga
"If I went to a school with a prom, regardless of having a date, you can bet you'd find me in the center of the dance floor with my girl friends!" Lily gushed. "If you want to go, be confident and others are sure to see how amazing you are! When we look back at high school years, no one is going to remember who asked who or who had the most elaborate promposal, we're going to remember prom as a milestone in teen life."
But that doesn't mean she is against being someone's date, obviously. Bilgrey really wants to go a prom and do the whole thing. She added that she would be "forever grateful" if anyone, anyone at all would give her the chance to go shop for prom dresses. Seriously, what kind of high school deprives a woman of that shopping experience?
Come on, people, someone take Lily to the prom. And then send pictures.