This teen brought Bernie Sanders to prom — yes, really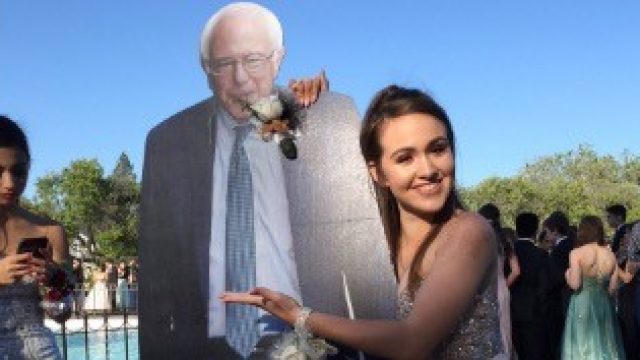 High school senior Chloe Raynaud wanted her prom to be memorable, so she brought a date she (and probably everyone) would never forget — Senator Bernie Sanders.
Since Sanders is super busy with the whole running for president of the United States of America thing, Raynaud, a self-proclaimed "stubborn socialist," settled on the next best thing to the actual Senator joining her at prom — a cutout of Sanders.
"I hadn't gotten asked yet and prom was approaching quickly, so I was thinking about who would make a good prom date," Raynaud said in an interview with Revelist. "I really identify with Bernie's political standpoint so I just went for it!"
Sanders wore a suit and tie, and Raynaud pinned a boutonniere on his jacket, because duh — it's prom. Sanders took pre-prom photos with Raynaud and her friends and escorted her into the dance. Her classmates really seemed to be feeling the Bern.
"During the slow dance I brought him out to dance with him and everyone started laughing," she said. "Then my friends made him crowd surf."
And the best part (aside from all of it) — Raynaud's pink Adidas socks and Berkenstocks.
We absolutely love that Raynaud doesn't take herself so seriously, and made the most out of one of her last big moments as a high school student.
No word on who was crowned Queen and King, but if we had to guess… Raynaud and Sanders for the win!