Ted Danson was so excited about THAT Good Place twist that he told everyone who would listen, including John Krasinski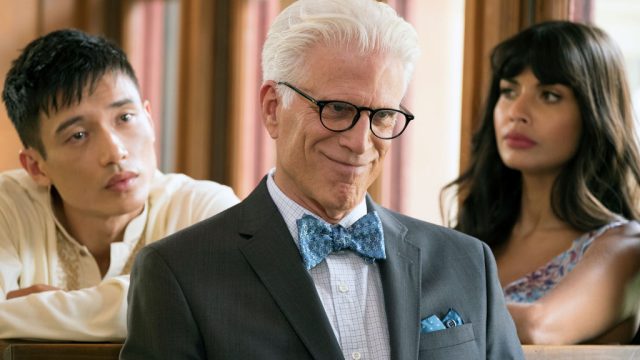 We all know how tough it can be to keep a secret, well, secret. But imagine knowing all the spoilers of a wildly popular TV show and being forced to keep the details to yourself for months. Turns out, Ted Danson had a hard time keeping THAT big spoiler from the Season 1 finale of The Good Place a secret. As in, he basically told anybody who would listen what was going to happen.
Warning: If you haven't finished Season 1 of The Good Place, there are major spoilers ahead.
On Friday, May 4th, the Good Place cast and crew gathered for a screening and Q&A. While there, the show's creator, Mike Schur, hilariously revealed that Ted Danson is kind of a blabbermouth. By now, we all know that Season 1 ends with a massive twist. In one of the most epic TV moments of all time, Eleanor, played by Kristin Bell, comes to the realization that they're not in the Good Place at all. In fact, they've been in the Bad Place all along.
Bell and Danson knew about that plot twist before filming even started.
Schur swore them to secrecy, of course. But now, we know that Danson just couldn't resist sharing the epic reveal. With like, everybody.
"Ted said, 'Absolutely, of course, I completely understand, I won't tell a soul," Schur explained during the Q&A. "And he proceeded to tell literally every single person who asked him, random strangers at cocktail parties, anyone he ran into he'd spill the entire season. And I only found out about that after the finale had wrapped. He was like, 'Okay, I'm glad it aired because I literally told everyone that happened.'
For some reason, Ted Danson even told John Krasinski about the spoiler. LOL.
Of course, Krasinski worked with Schur on The Office, so he graciously kept the secret to himself.
And Danson swears that he had good intentions.
"I was talking to John Krasinski, because he knows [Schur] well and loves you," Danson explained. "I went, 'Yeah, I'm working with Mike Schur and Kristen Bell.' When I said it takes place in the afterlife, I saw his eyes go, 'Oh, it's The Office in Heaven.' And that pissed me off. I'm like, 'No! No! See, the trick is I'm actually a demon.' And he was suitably impressed."
To be honest, Ted Danson's oversharing problem is pretty relatable.
And after hearing how the exchange went down, it's clear he just wanted to impress the world with the creativity of his new TV show. We'll forgive you for this one, Ted. But we're begging you, no more spoilers!
Now we REALLY can't wait for Season 3 of The Good Place this fall.