The second teaser for "The Santa Clarita Diet" is here, and say hello to Zombie Drew Barrymore's husband!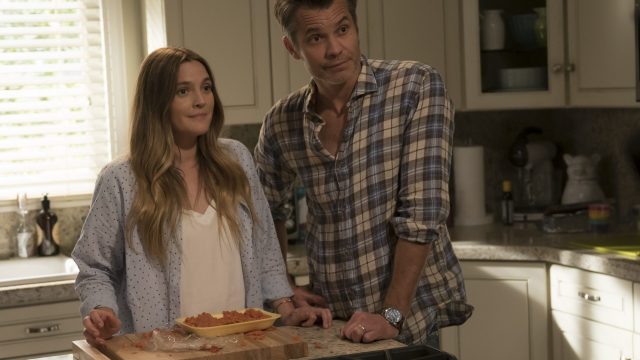 If you needed something new and exciting to whet your appetite for Drew Barrymore's upcoming Netflix series The Santa Clarita Diet, have we got the trailer for youuu (We meant 'whet your appetite' figuratively, not literally. Please don't replicate the Santa Clarita Diet. And if you do, please don't say we encouraged you to do it. We don't, okay!?).
After the first ad campaign launched showing Drew Barrymore casually sippin' on some body parts, we knew we were in for a wild ride with her much anticipated show, and now we're even more sure we're gonna love this.
Netflix dropped another trailer, this time starring Timothy Olyphant, Drew Barrymore's on screen husband, who has a few words about his wife's new diet.
https://www.youtube.com/watch?v=XDR7lAamYmo?feature=oembed
Sooooo, it looks like Drew Barrymore isn't going to be a fairly civilized zombie like Liv and company in iZombie, based on the fact that it seems like she ate some guy in the park for being mean to the ducks.
Still, the trailer doesn't give us a ton of information — we're still not sure what's going to be happening in this series, but Netflix, consider our interest piqued. What we do know is that we totally love how supportive her husband is of her life choices — it really gives a whole new meaning to that whole 'till death do us part' thing. ('Till death [passes us over as long as I] do [eat body] part[s]?)
We could all do with a hunky husband who supports us no matter what, even if 'no matter what' has cannibalism under its umbrella. What a guy.