A teacher helped raise more than $100K in college tuition for a gay valedictorian whose parents kicked him out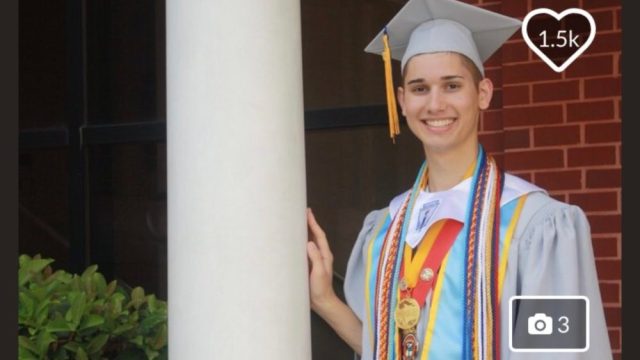 It's heartbreaking that even in 2018 countless LGBTQ youth still face discrimination and potential homelessness for coming out. But there are some stories that give us hope. Seth Owen, a gay student whose parents sent him to conversion therapy, has received more than $100,000 toward his college tuition—and it's all thanks to one of his teachers.
According to NBC News, Owen, who was valedictorian of his class with a 4.16 GPA, had already accepted his admissions offer at Georgetown University. But the financial aid package he received required parental support and, unfortunately, Owen's parents had kicked him out of the house. He began to worry that he would no longer be able to go to college.
Owen told NBC that when his father discovered he was gay, his parents began sending him to Christian conversion therapy. After a few months, he convinced them to let him stop. But when he asked to attend a different church than his parents, they told him he could either go to their church or leave.
"The worst part was I was packing my bags, and I was walking out the door, and I was hoping that my mom would stand in my way," Owen told NBC. "I was hoping that she would say 'I love my child more than I love my religion.'"
But Owen's biology teacher, Jane Martin, decided to help. Martin set up a GoFundMe page to raise the $20,000 Owen needed to enroll at Georgetown. On the page, Martin wrote that she had served as Owen's mentor throughout high school and that he was even the ring-bearer in her wedding. And as of today, August 2nd, she has helped raise more than $100,000 for his education.
Thanks to the fundraiser's stunning success, Owen will be able to go to college. But as Martin pointed out on Twitter, there are many other LGBTQ students who also need help.
In a Medium post written on August 1st, the teacher wrote that 40% of homeless teens belong to the LGBTQ population. She added that while Owen's story is being widely covered, the plight of many LGBTQ youths, such as transgender teens, often goes unacknowledged.
"There are voices and stories who deserve to be amplified, uplifted, and supported just as much as Seth's story," Martin concluded in her post. "There are organizations working to provide resources, safe spaces, and support to LGBTQ students who need funding and volunteers. Find those voices and organizations. Invest in them and help make our nation a little brighter and inclusive for all."
We're glad Owen's community came together to help him go to college. But as Martin notes, it's important that we continue to support all LGBTQ youths, whether by providing personal support or by working with or donating to organizations that help.