A teacher allegedly bullied a student for his hair, and it's really not OK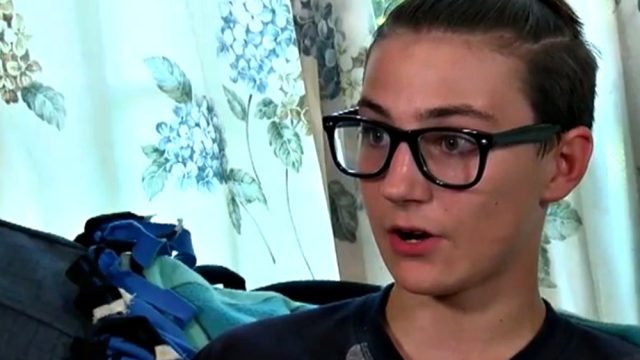 OK, some of us might be guilty of poking fun at men who rock man buns, but a teacher bullying a student for a man bun is an entirely different story. Eighth grader Alex Davis, who also has Aspergers, told his mom about the bullying and as the stories allegedly became worse each day, she pulled him from the school. According to Davis, the teacher, who is also the school's basketball coach, said that he couldn't have his "hair up like that because [he isn't] a girl, or [he's] not a f*g." According to Davis, the teacher also allegedly pulled the hair tie out of his hair during class one day. Amanda Pettus, Davis' mother, said that was when she thought the teacher had crossed the line. She said, "My first thought is assault, why are you touching my child?"
She sent her son to school with a cell phone to record the teacher's taunts. Alex, 14 years old, told a local Charlotte, North Carolina Fox News affiliate,"He said get that crap out of your hair, and then I took it down, and I put it back up because my mom told me he can't tell me I can't have my hair up or down because it's my hair, and then he took the hair belt away from me."
The teacher reportedly bullied the student in other ways, too.
One day, Davis reportedly answered a questions correctly and the teacher said, "so you're not completely useless." The teacher added, "just most of the way." Alex said, "then I felt like, well, maybe I am useless, but I did answer the question correctly."
Pettus emailed the teacher about her son's complaints, but the teacher denied it. "I have no recollection of calling Alex or any other student for that matter "not completely useless." I try to keep a light atmosphere in my classroom and like to have fun with what we do. I don't insult students, but I do tell jokes from time to time to try to keep things from getting too stuffy or serious in my classroom. This is the first e-mail I've ever gotten that notifies me of hurting children's feelings, but if I've done so, I apologize."
Pettus and Davis maintain that they've gone to the principals and other school administrators, but that the school's officials told them that the teacher doesn't have any disciplinary actions against them and that there is not evidence to corroborate Davis' claims. "I'm not looking for this guy's job or anything like that, but something needs to be handled," Pettus said.