TAZO just released four new teas inspired by regions of the U.S.—can you guess what your home tastes like?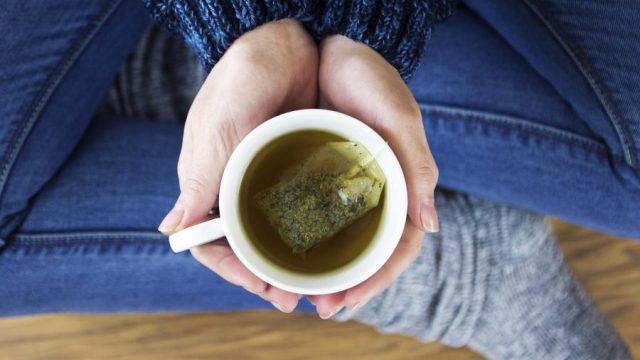 Ever wish you could bottle up the feeling of being home and take it with you wherever you go? While that science doesn't exist yet, tea company TAZO is replicating the distinct flavors of your home region into four new blends. Whether you're from New England, the Midwest, the Southwest, or the Rocky Mountains, TAZO has bagged that singular feeling that goes along with your region and is serving it up hot or iced. We'll be drinking ours while lighting our Homesick candle, NBD.
On August 18th, TAZO released four new flavors inspired by regions of the U.S.—available exclusively at Target. All of the teas are herbal and caffeine-free, so they're perfect for cozying up and sipping before bed—making you feel like you're tucked under the covers at home, no matter where you are. TAZO captured the distinct flavors of each region and combined them with unexpected ingredients to make four unique blends.
We sipped on all of the available teas and it had us thinking about a vacation. Can you guess what your region tastes like? Find out below.
Juniper Mint Honey—The Rocky Mountains
"Renew with a fresh blend of bright juniper berries, mint, and notes of honey," says TAZO in a press release to HelloGiggles.
Three flavors intertwine to create a smooth, subtle blend that any tea lover will obsess over. Just thinking about honey dripping into our mugs relaxes us and we're not even from the Rocky Mountains.
Prickly Pear Cactus—The Southwest
"Delight in refreshing prickly pear flavor and tart hibiscus flowers," says TAZO.
We love a fruity tea during the summer months, and this blend is exactly that. Sweet and light, the prickly pear cactus tea tastes slightly like pink bubblegum—in the best way.
Wild Apple Sarsaparilla—The Midwest
"Savor a slightly sweet blend of warm sarsaparilla and crisp wild apple," says TAZO.
Surprisingly, this blend tasted a bit like root beer to us, and we aren't complaining. Sipping an ice-cold root beer from a bottle screams "the Midwest," and this flavorful tea totally evoked that vibe. The traces of tangy apple might just convince us to sub it in for our cider.
Elderberry Blackberry—New England
"Dive into a blend of tart elderberry and notes of sweet blackberry," says TAZO.
We have to admit, we didn't know what an elderberry was before sipping on this blend. These beauties, which grow all over New England, tasted like the perfect combination of tart and sweet, making it the tea that surprised us the most.
Shop the TAZO Foragers collection exclusively at Target.