Taystee from "OITNB" posted a tribute to Poussey, and it's making us feel all the feelings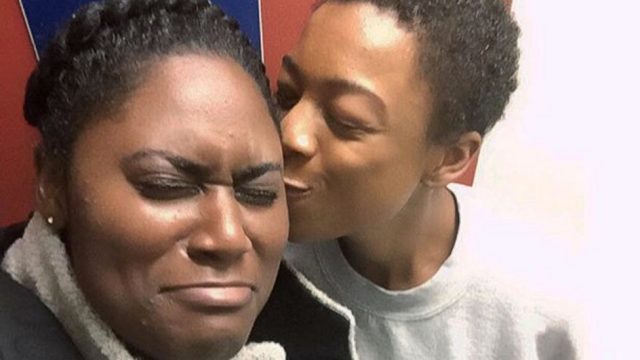 ***ALERT: This post contains spoilers from season four of Orange Is The New Black!***
Those of us who finished the last season of OITNB tear up at the mere thought of the season finale. Danielle Brooks certainly can relate, as she had some major trouble filming the scene in which (AGAIN, SPOILERS, LAST CHANCE TO TURN BACK) Poussey Washington (played by Samira Wiley) was brutally murdered by a prison guard. Not only is the scene heartbreaking, but Danielle and Samira are great friends — and she was the first to know that Samira was leaving the show.
"I kind of took a big moment of silence," she told Vulture, referring to the moment after Samira revealed the death. "I was really in shock and couldn't believe she was leaving."
Today, Danielle posted a super-sweet selfie of their final moments together on season 4, and it's tugging at our heartstrings. "Our last moment together from season 4!" she wrote in the caption of the picture, in which Samira is kissing an emotional Danielle on the cheek. "Love this one to the moon and back!!"
OUR HEARTS. The ending of OITNB was so emotional and powerful, and we're going to miss Samira, but we're so happy that these two have this strong, powerful friendship that will last long after OITNB is finished. Which we hope is *way* in the future, ICYWW.