Taylor Swift's latest Insta post perfectly captures our feelings about Lorde's new song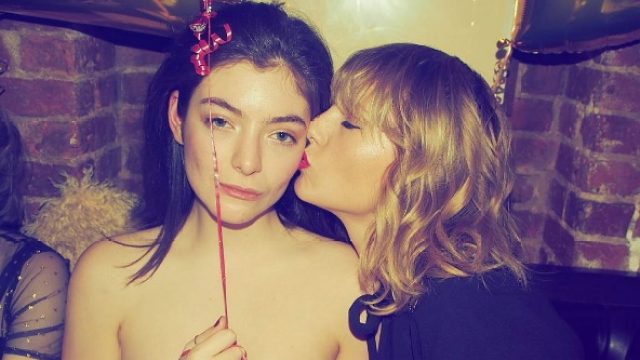 Is it just us, or has music been amazing this year? Just yesterday, Lorde dropped her new song "Green Light" from her upcoming album Melodrama, and we've been seriously obsessed to the point of potentially needing a support group. We love everything; from her voice, to how personal the lyrics are, to her journey as an artist and a person.  In an interview with Zane Lowe, Lorde revealed that "Green Light" is inspired by her first major heartbreak, and we can all relate to that.
And you know who else is totally digging Lorde right now? Taylor Swift! She took to Instagram to post about her enthusiasm for Lorde's newest track.
https://www.instagram.com/p/BRKai9NDF2X
"g2g brb just gonna make up an interpretive dance to this magnificent bop for the ages ELLA I LOVE YOU"
And that's basically our thoughts exactly, too. Interpretive dance, here we come!
This of course isn't the most unexpected thing ever. Lorde and Swift have been friends for over three years now, and Swift even threw Lorde a super awesome NYC birthday party this past November.
https://www.instagram.com/p/BMinwPHFai6
Coming of age while living under constant public scrutiny — while continuing to be your most creative self — must be a huge challenge, and we can totally see why these badass female artists would be drawn to each other.
https://www.instagram.com/p/BMioGS4FKwr
And can we just take a moment to note that we have so much respect for Lorde, because it can't be easy to take an intimate experience and translate it into something designed for other people to consume as "entertainment." But she's done it beautifully.
She mentioned in the interview with Lowe that writing about heartbreak is not something she's used to. "It took me a while to be able to figure out how to write about that. It was my first major heartbreak. And the song is really about those moments kind of immediately after your life changes and about all the silly little things that you gravitate towards."
https://www.instagram.com/p/BNNGuE8FKAf
Bowing down to you, Lorde! Also, we're crushing so hard on the gorgeous cover of her album painted by Sam McKinniss.
https://www.instagram.com/p/BRJZaZ4Bzde
Can't wait to hear more music! We'll TRY to be patient.