Taylor Swift and Zayn have done a duet for the "Fifty Shades Darker" soundtrack and it's out RIGHT NOW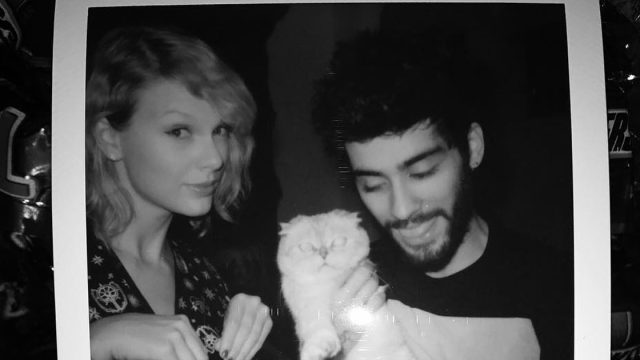 Movie soundtracks always bring in the biggest stars together and the Fifty Shades Darker soundtrack is bound to be no different. Indeed, two of music's biggest stars have contributed to the soundtrack: Taylor Swift and Zayn Malik have recorded a duet for the soundtrack.
For months, there has been speculation that Taylor Swift could be about to release new music. From rumors that the star might be releasing an R&B album to Tay's BFF Gigi Hadid confirming that the singer was working on new material, the world is HUNGRY for new music from Taylor Swift.
Well, it seems that Swifties all around the world can rejoice as Taylor Swift has *finally* released some new music and it's EVERYTHING.
https://www.instagram.com/p/BNyEysDBzr9
Titled "I Don't Want To Live Forever," the song is a duet with former One Direction member Zayn Malik (who, coincidentally, is also dating Gigi Hadid, Tay's BFF), and sees the pair lamenting the end of a relationship.
Zayn announced the track by sharing a cute picture of him with Taylor and one of her cats.
https://www.instagram.com/p/BNyEx_rA5SC
"I don't wan to live forever," the chorus goes, "And I don't wanna fit wherever, I just wanna keep calling your name until you come back home."
Listen to a snippet of the song below.
https://www.instagram.com/p/BNyFYpMBNOU
The track was written by Swift, Jack Antonoff  — who also co-wrote "Out of the Woods" and "I Wish You Would" from 1989 —and Sam Dew, while Antonoff also handled production.
"i  don't wanna live forever came together very quickly. wrote it with taylor and sam dew and produced it at home mostly on paper sounds," Antonoff said. "recorded taylor at my house. zayn sent parts from LA – we did it in a week basically. i've never had something come out that quick [sic]." false false false
The last Fifty Shades of Grey soundtrack spawned two humongous hits. Ellie Goulding landed at number 3 on the Billboard Hot 100 with "Love Me Like You Do," as did The Weeknd with his sultry track "Earned It."
"I Don't Want To Life Forever" is the first single to be lifted from the Fifty Shades Darker OST, which is expected to be released on February 10th, and is the first taste of new music from Taylor Swift since her multi-platinum selling album 1989.
Earlier this week, another trailer for the second Fifty Shades film was released. Watch the trailer below.
https://www.youtube.com/watch?v=TUnylyz5mqQ?feature=oembed
Since uploading the song to iTunes, the track almost immediately hit the number one spot.
https://www.instagram.com/p/BNyQF9oBWf9
"Well that escalated quickly," Swift wrote.
Tbh, we're already OBSESSED with this song, and just know that it's going to be H-U-G-E!
You can listen to "I Don't Want To Live Forever" on Apple Music. The track is also available to purchase on iTunes.
Long live Zaylor!