Taylor Swift wrote an endearing essay about her BFF Ed Sheeran, and it's giving us #friendshipgoals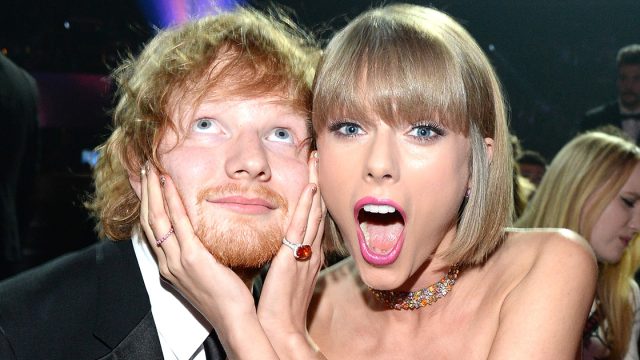 We love seeing when BFFs totally support each other, which is why we can't get enough of Taylor Swift's essay about Ed Sheeran that she wrote for Time Magazine's 100 Most Influential People in the World issue.
We know that Ed and TayTay have been friends for ages. The pair teamed up for the track "Everything Has Changed," taken from Taylor's Red album, and earlier this year Ed opened up about why his friendship with the Nashville star is so special.
"She would be there if everything ended for me," Sheeran said about his relationship his fellow pop juggernaut. "Taylor is kind of an anomaly in that sense."
https://www.youtube.com/watch?v=w1oM3kQpXRo?feature=oembed
Now Taylor Swift has shared her own story about Ed Sheeran, and it'll give you serious #FriendshipGoals.
Penning a short essay for Time about her friend, Taylor said that she felt that since starting out in the music biz, Ed had become a "tank" (don't worry, that's a compliment.
"He is protected by an impenetrable and ever-present armor of enthusiasm that has helped him endure any setback, letdown or underestimation," Tay said of Ed. "His reaction to any idea that fails is to almost immediately come up with a new one. He's like a fighter who pops back up on his feet before you even noticed he'd been knocked down." 
Awww!
Continuing, the 1989 singer recounted a story about how, at one point, Ed was insecure about never winning a Grammy.
"A few years ago, in a rare moment of admitting feeling defeated, Ed said to me, 'I'm never going to win a Grammy.' Yes, you are, I said. You're going to sweep the whole thing one of these years," she recalled. "It was a few weeks later when he met me in a dance-shoe store in London, where I was picking out rehearsal outfits, and said, "You have to hear this. It was a song he'd just finished called "Thinking Out Loud, which went on to win Song of the Year at the Grammy Awards in 2016."
https://www.youtube.com/watch?v=lp-EO5I60KA?feature=oembed
The singer ended her essay sending her congratulations to Ed Sheeran.
We just love seeing these two supporting each other so much, even after Ed Sheeran accidentally let slip some potential news about Taylor's upcoming new album. Whoops!
Here's to more years of friendship!