Taylor Swift Just Wore the Cutest "Voter" Necklace—Shop 5 Lookalikes, Starting at $10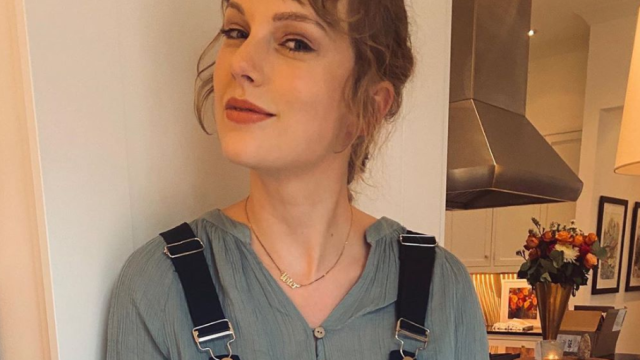 Whether she's sipping wine in cozy joggers or snapping sunny selfies in floral shirts, we always take notes on Taylor Swift's outfits. The Folklore singer often wears super stylish clothing and accessories that are also affordable, swearing by brands like Madewell and Free People. Most recently, the ten-time Grammy winner posted to Instagram wearing a cozy button-up and overalls. But her cottagecore outfit wasn't what caught our eye—it was the gold accessory around her neck.
Swift is a sucker for meaningful necklaces—as her "Call It What You Want" lyrics prove—and this "Voter" necklace is sending a loud and clear message to her 140 million Instagram followers (if the plate of custom cookies she's holding wasn't obvious enough). On October 7th, the day of the 2020 vice presidential debate, Tay posted a photo endorsing Joe Biden and Kamala Harris in the most Taylor Swift way possible—by baking cookies with "Biden Harris 2020" written in red, white, and blue icing. The singer is also wearing a political necklace reminiscent of Michelle Obama's accessory that went viral in August.
While the custom cookies look delicious, we're more interested in copping Swift's proud political accessory.
Stella and Bow I Am a Voter Necklace
$65
Shop it
Stella and Bow
Tay's exact necklace from Stella and Bow is currently sold out, but you can preorder the piece in gold or silver here. Luckily for you, we found five lookalike necklaces so you can show off your voter pride, too. Below, shop "vote" necklaces—and wear them proudly as we gear up for the 2020 presidential election.