Taylor Swift and Tom Hiddleston partied at Selena Gomez's concert and OMG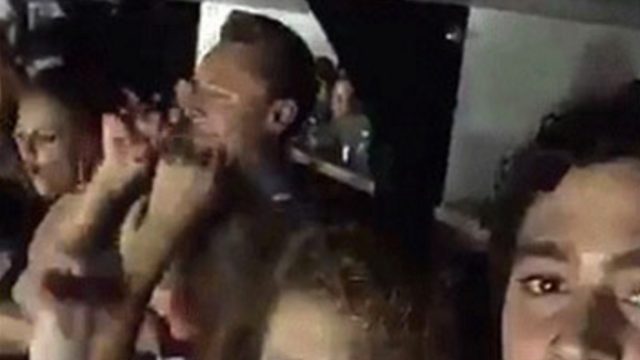 Did you feel a little happier last night for no discernable reason? That could be the power of Hiddleswift at work. That's right: Taylor Swift and Tom Hiddleston were together, in the same square footage, being adorable once again. And the internet is PUMPED.
Taylor and Tom were spotted having a grand old time in Nashville at Selena Gomez's concert at the Bridgestone Arena last night. Of course, T.Swift and Selena are great friends, so Taylor wanted to see her bestie perform — but she also brought a ~pal~ of hers: Tom.
Taylor's childhood bestie, Abigail Anderson, posted a video of the concert on Snapchat. . . and guys, you can see Taylor and Tom dancing RIGHT THERE IN THE VIDEO. false
A video was also captured by a fan from another angle, showing Taylor and Tom dancing and cuddling in the private box together while Selena performed "Hands to Myself" (coincidence?!).
This, of course, comes just four days after the internet went totally bonkers over photos of Tom and Taylor kissing in Rhode Island. It's too early to tell whether Taylor Swift and Tom Hiddleston are an item or just having fun, but IMHO, "Swiddleton" is so much better than "Hiddleswift." You know, just for future hypothetical couple-naming purposes.