Why it's so meaningful that Taylor Swift's new song "The Archer" is track 5 on Lover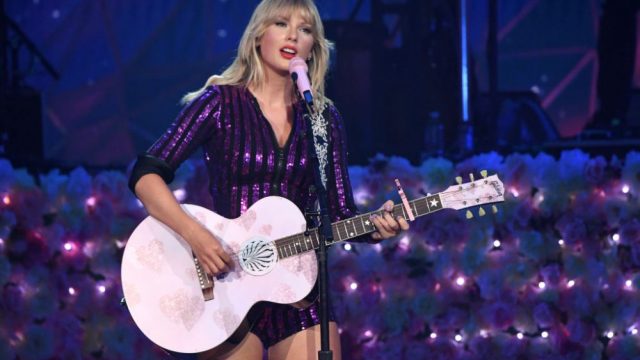 It's a great time to be a Swiftie. Taylor Swift is following up her Reputation cycle with a new, pastel aesthetic for her latest album, Lover,out August 23rd. So far, the new era of Swift's music has brought guest vocals from Brendon Urie on "Me!" and a star-studded pro-LGBTQ equality music video for "You Need to Calm Down." Yesterday, July 23rd, Swift unveiled her third song from Lover, "The Archer," and she also revealed that it will take the ever-important track 5 spot on the album.
True to form, Swift foreshadowed her announcement with an Easter egg. On Instagram on July 22nd, she shared a clip from the "You Need to Calm Down" video, which featured Hayley Kiyoko shooting an arrow and hitting a bullseye painted with the number 5. In the caption on her post, she promised fans that'd she'd explain in an Instagram live session at 5 p.m. ET on the 23rd. According to Billboard, in her live video, Swift announced the release of "The Archer" and also talked about why she decided to make it track 5.
"There's a lot that's covered emotionally [on this album] and I really wanted to give you track five before the album came out," she told fans. "Track 5 is kind of a tradition that really started with you guys because, I didn't realize that I was doing this, but as I was making albums, I was instinctively putting very vulnerable, personal, honest, emotional songs as track 5."
https://www.instagram.com/p/B0OSaoijJ8I
The previous track 5s on Swift's albums have definitely been among her most tender songs. On Reputation, the spot went to "Delicate." On 1989, it was the brokenhearted "All You Had To Do Was Stay," and on Red, track 5 was "All Too Well," which is similarly about the end of a relationship. Even the fifth track on Swift's debut album, "Cold as You," was an emotional ballad. "The Archer" is no different.
"I've been the archer. I've been the prey/Who could ever leave me darling/But who could stay?" Swift sings in the chorus.
The rest of the song's lyrics mention feeling broken and worrying about losing a hero. Swift croons, "I cut off my nose just to spite my face" and "all of my heroes die all alone/Help me hold on to you."
Swift said "The Archer" won't be released as a single, and thus will likely not get its own star-studded music video. But, this track 5 definitely lives up to all the others. We can't wait to hear the rest of Lover.