Yes, Taylor Swift is giving us Mad Men vibes in Sugarland's "Babe" music video — but she's also serving serious Red vibes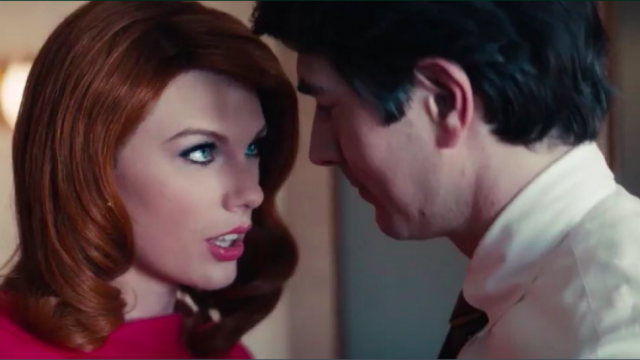 Even though watching music video premieres on MTV and VH1 is a thing of the past, it's still exciting when artists release new videos. And it's especially thrilling when they include cameos from other people we love too. Drake featured a slew of powerful women in his "Nice for What" video, including Issa Rae, Olivia Wilde, Rashida Jones, and the perfect vision that is Tracee Ellis Ross. Maroon 5's video for "Girls Like You" is completely star-studded with powerhouses like Tiffany Haddish, Aly Raisman, and Phoebe Robinson.
But sometimes, it just takes one cameo to make a video complete. In Sugarland's new music video for "Babe," Taylor Swift goes back to her country roots and plays a too-hot-to-handle redhead. As many people are pointing out, she channels fictional bombshell Joan Holloway in the video's very Mad Men-esque setting. But those aren't the only vibes the singer is serving.
Taylor's look in "Babe" is also very reminiscent of her Red album era.
Swift wrote "Babe" with singer Pat Monahan from Train. As PopSugar reports, the empowering breakup song was originally intended for her Red album, which she released in October of 2012. Though it didn't make it onto the album then, we're glad the song found a new home with Sugarland.
So, could Swift's red hair in the "Babe" video have a deeper meaning?
We like to think it's a shoutout to her Red era, a Swiftie fan favorite. Twitter certainly seems to think so.
Sugarland bandmates Jennifer Nettles and Kristian Bush gushed about the video and Swift's part in it. Not only did Tay help write the song, but she also came up with the idea for the video.
"She actually reached out to us and said, 'I've got a great idea for the video,' and she wrote the treatment," Nettles told PEOPLE at the 2018 CMT Awards. "She's been such a champion of ours, not only for many, many years, but also where this project is concerned. She's just super excited that we're doing it."
Watch Sugarland's "Babe" music video featuring Taylor Swift below.
https://www.youtube.com/watch?v=l25AL0BdD6w?feature=oembed
We love a good Old Taylor sighting, and this one did not disappoint.