A man broke into Taylor Swift's apartment for a shower and a nap, and why does this keep happening to her?!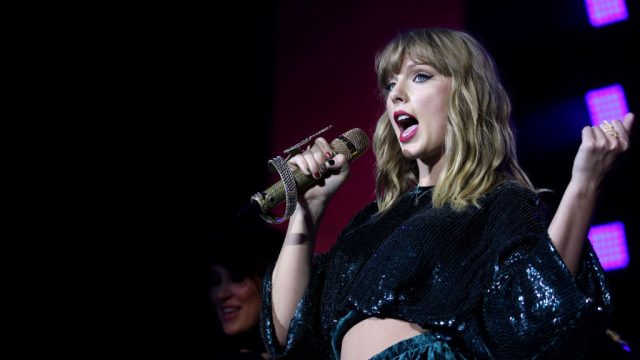 Taylor Swift's house has been vandalized yet again. Early in the morning on Friday, April 20th, a man reportedly scaled a ladder outside of Swift's New York apartment, smashed a window with his hand (!), climbed in, took a shower, and crawled into her bed. Thankfully, Swift wasn't at home when this happened. Still, he slept in her bed. Her BED!
This is so violating. TMZ broke the story and reported that someone called 911 as soon as they saw him climbing up the ladder. But apparently, it took the police so long to arrive, Swift's stalker showered and settled in for a nap! The intruder has been charged with "stalking, burglary, criminal mischief and trespassing." The New York Times also reports that the same man was arrested outside of her house back in February, where he was trying to break the front door with a shovel.
Swift bought the brownstone several months ago, but reportedly has never actually lived there. After this latest incident, we doubt she'll ever want to.
But here's the kicker: This isn't the first time Taylor Swift has been the victim of home invasion.
Per USA Today, a homeless man was caught scaling the wall outside her Beverly Hills home earlier this month. And on Saturday, April 14th, a different individual was arrested at the same property on the "suspicion of stalking…[and] a search of his car turned up a knife, rope, ammunition and more masks and gloves." Yikes.
It's common practice for real estate blogs to report on celebrity home purchases.
They often include photos of the house and even aerial map images, which make celebrity homes incredibly easy to find. However, that kind of public access is clearly dangerous in the wrong hands.
We're just glad you're okay, Taylor!