Taylor Swift skipped her annual July 4th party this year, the internet laments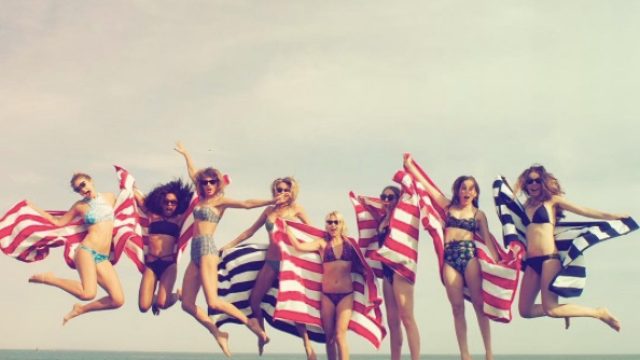 Taylor Swift, noted July 4th enthusiast, has had a huge Independence Day bash every year since 2013. The parties, usually located at her stunning property in Rhode Island, always look prettttttty epic. There tends to be some sort of huge, fun water slide, lots of playing in the ocean, an array of yummy food and drinks, and, of course, a slew of the most famous members of her squad. Past attendees have included Emma Stone, Gigi Hadid, Blake Lively, Cara Delevigne, Ed Sheeran, the Haim sisters, and more. But, this year, nada. What's going on, Taylor?!
It seems like Taylor Swift ditched her annual patriotic party, and we're honestly bummed.
https://www.instagram.com/p/4sUtwkDvI4
Well, People has some theories. Last year, if you don't remember, Taylor invited Tom Hiddleston, who wore an "I <3 T. S." t-shirt, and so began the media circus that was their relationship. And the year before that, she was fielding media curiosity about her relationship with then-boyfriend Calvin Harris.
https://www.instagram.com/p/BHfbTikDYx5
With new boyfriend, English actor Joe Alwyn, People sources say that Taylor is going to great lengths to keep their relationship out of the limelight.
https://www.instagram.com/p/qHTv0HjvCS
https://www.instagram.com/p/BHfV9uODLmv
People reports that Taylor and Joe may be in Rhode Island, but there haven't been any confirmed sightings. While an inflatable slide was seen set-up at her house, there were no other signs of any sort of fiesta. But that didn't stop admirers from hoping to see Swift and her new beau.
"Teenage fans camped out at a nearby lighthouse with 'We Love You Taylor' signs were slightly rewarded when Swift's father sent over 1989 guitar picks," the mag reports.
Wow.
Like us, fans (and basically everyone) were left disappointed:
false
Lol, welp, we assume Taylor is just doing her thing. We hope all is well, and that you had a great Fourth of July wherever you may be!