Is this what Taylor Swift really means when she says "she's dead" in "Look What You Made Me Do"?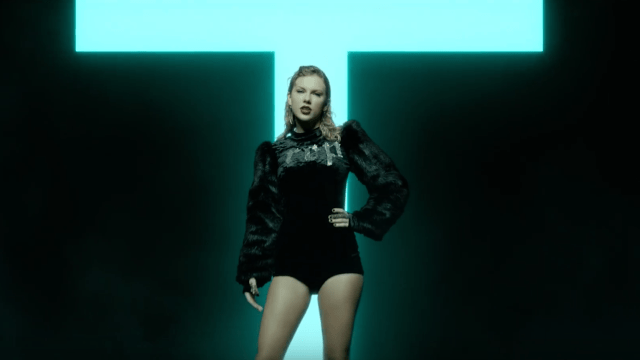 The "Look What You Made Me Do" plot thickens. As if there weren't already enough fan theories about all of the video's Easter eggs and the lyrics' hidden meanings, a new Taylor Swift fan theory has just surfaced, and this one's actually pretty cool.
During the part of "Look What You Made Me Do" when Swift has a spoken interlude, she says, "I'm sorry, the old Taylor can't come to the phone right now. Why? Oh, 'cause she's dead!" There have been plenty of theories buzzing around Tumblr about what exactly caused the old Swift's figurative death. Most comments remark upon the fact that Swift is wearing her 2014 Met Gala gown while she's being the "old Taylor" lying in a grave in the "LWYMMD" video.
Since spring of 2014 is around the time that Swift and Katy Perry's feud was circulating in the headlines, before she'd released 1989, it's safe to presume that Swift was proclaiming (again) that she is finished being the Swift painted as a "Regina George in sheep's clothing."
The new theory about the so-called old Taylor is more specific — and tongue-in-cheek —though.
According to Swifties' sleuthing, Swift's "she's dead" line is actually responding to the Kimye Snapchat takedown, which is a major reference throughout the "LWYMMD" video.
After Kim Kardashian revealed — via Snapchat — that Swift had agreed to allow Kanye West to rap about her in his 2016 song "Famous," people were joking about Swift being "dead" and "over." The hashtags #TaylorSwiftIsOver and #TaylorSwiftIsOverParty were even trending on Twitter.
The jokes about Swift's death didn't end on Twitter, though. There was even a mural painted in Melbourne, Australia that was an "In Memoriam" of Swift, as if she'd actually died. Ouch!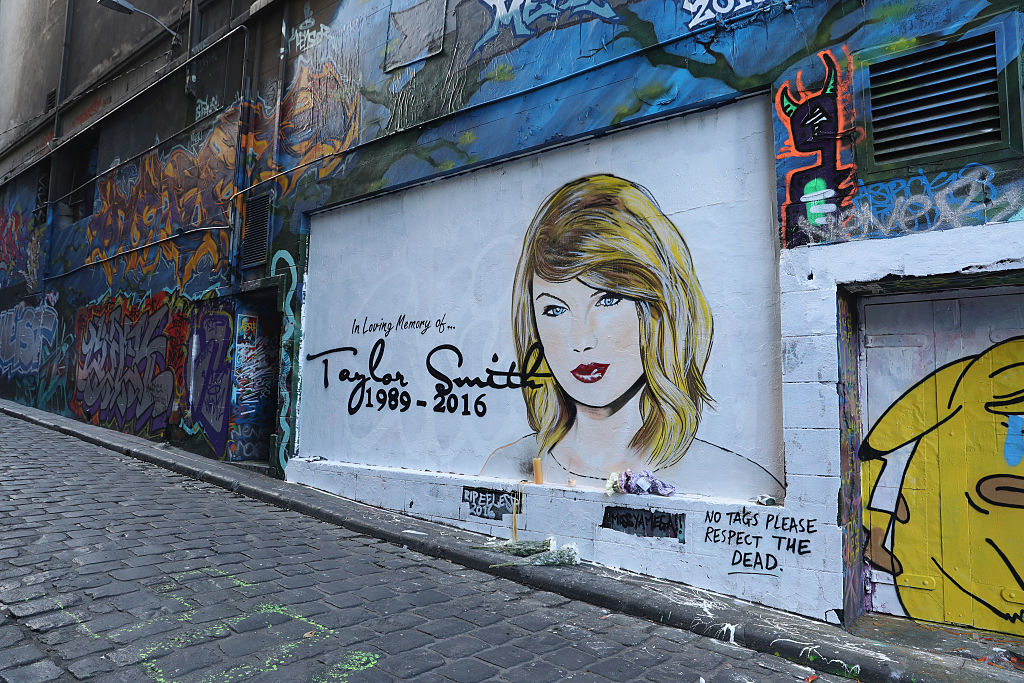 The "Look What You Made Me Do" video seems to respond directly to these jokes at Swift's own expense, proving that Tay Tay is able to have a sense of humor about her contentious reputation.
Fans are appreciating the fact that Swift's latest success with "LWYMMD" proves the #TaylorSwiftIsOver trend wrong. false
Swift even liked the post about the Taylor-laughing-about-people-saying-she's-dead theory on Tumblr. It really must be true!
Suddenly, the image of Swift standing in front of a giant "T" that happens to look like a crucifix takes on a whole new meaning, too.
Whether or not she's comparing herself to Jesus and his resurrection is still not clear, but one message is: Swift is very much is not dead, and she is probably making fun of statements that she is in "Look What You Made Me Do." The joke's on us!