The $1 Taylor Swift won during her sexual assault trial makes an appearance in "Look What You Made Me Do"
Even though it only just premiered at the 2017 MTV Video Music Awards, the music video for "Look What You Made Me Do" has already been dissected for its many meanings. And one not-to-be-overlooked moment is when a single dollar bill appears next to Taylor Swift while she's in a bathtub full of jewels. George Washington's face is out of place in a such an expensive tub, and the dollar bill is most certainly a nod to the amount of money that Swift won in her sexual assault case.
Before she announced her upcoming album, Reputation, Swift won her countersuit against DJ David Mueller, in which she stood behind her allegation that he had groped her back in 2013. Swift only asked for $1 in her suit, and she won it. Now, while the "Look What You Made Me Do" video was shot before she won the trial, don't doubt for one second that she's intentionally referencing her sexual assault case with that little dollar that could.
https://www.youtube.com/watch?v=3tmd-ClpJxA?feature=oembed
In case you're having trouble spotting it, here's the dollar bill in a sea of jewels: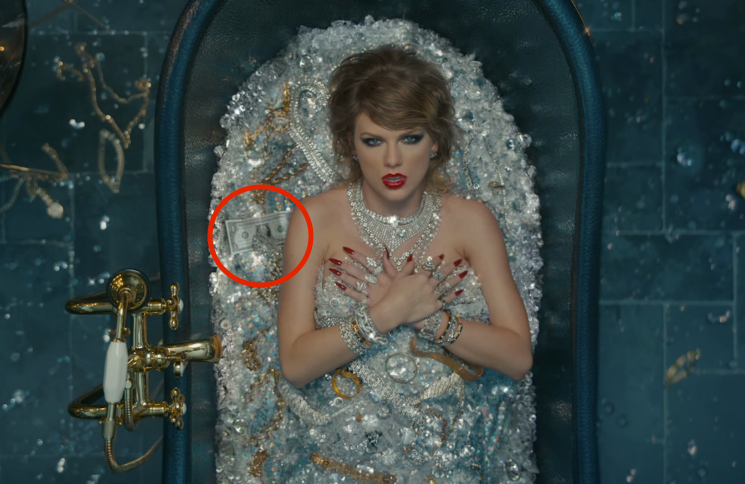 And fans, of course, took notice: false
Besides being one of the richest women alive, there's another reason Swift only sued for $1. During the trial, Swift's lawyer, J. Douglas Baldridge, explained her rationale this way:
"She's just trying to tell people out there that you can say no when someone puts their hand on you. Grabbing a woman's rear end is an assault, and it's always wrong. Any woman — rich, poor, famous, or not — is entitled to have that not happen."
So while many of the "Look What You Made Me Do" Easter eggs are about the gossip in Swift's life or the reported feuds she has with other celebrities, this reference at the beginning of the music video is truly an empowering moment for all women.