Taylor Swift called out Justin Bieber's manager Scooter Braun for "bullying" her, and A-listers are taking sides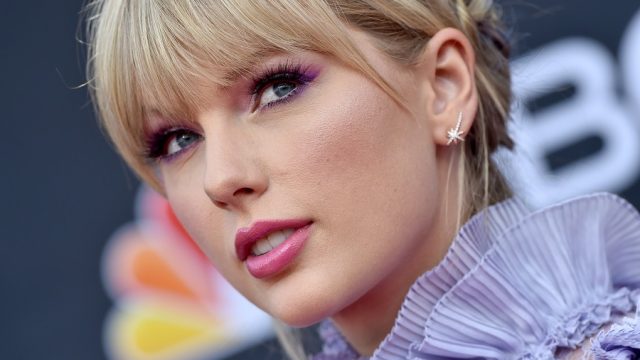 Update, July 2nd, 9:45 a.m.: Fans have uncovered what appears to be evidence of Scooter Braun bragging about purchasing the Big Machine label as a way to "buy Taylor Swift," prior to Swift's social media response to the news. This post has been updated to reflect that information.
On Sunday, June 30th, Taylor Swift took to Tumblr with a shocking post, accusing music manager Scooter Braun (who manages Ariana Grande, Justin Bieber, and Demi Lovato, among others) of "stripping" her of her "life's work" by buying out her masters. Here's what we know.
Last year, Swift announced she'd signed with a new label, Republic Records and Universal Music Group, after her contract ended with Big Machine Label Group—the label she'd been with since she began her career in 2006. Every album of Swift's thus far, including reputation, was under her first label. In her Tumblr post, Swift claims unfair treatment by the label. She also claims that she only learned that Braun had purchased the rights to her masters via a news report.
Swift wrote, "For years I asked, pleaded for a chance to own my work. Instead I was given an opportunity to sign back up to Big Machine Records and 'earn' one album back at a time, one for every new one I turned in. I walked away because I knew once I signed that contract, Scott Borchetta would sell the label, thereby selling me and my future. I had to make the excruciating choice to leave behind my past."
https://www.instagram.com/p/BqXgDJBlz7d
According to music insiders, this essentially means that Swift has never owned her masters herself, and now Braun owns them. Owning an artist's masters means that person gets to decide when the music gets used in TV or advertisements or any other sort of commercial placement, thus receiving money in return for such deals. Swift will still receive money for mechanical royalties (physical sales of the music) and performance royalties (including radio, broadcast, streaming, and live performances), but it appears she's upset about the way Big Machine handled the deal.
Swift alleges that Braun's purchase is part of a history of "bullying" from the music manager. The singer called out Kim Kardashian and Braun's then-client Kanye West for "[orchestrating] an illegally recorded snippet of a phone call to be leaked," referring to the 2016 phone call in which Swift appeared to approve West's "Famous" song. She called out West again for using her likeness in the music video, calling it "a revenge porn music video which strips my body naked," seeming to allege that Braun was involved.
https://www.instagram.com/p/BcTKU-alGxd
Swift also included a screenshot of a 2016 Instagram post by Bieber as evidence of Braun's "bullying," in which he can be seen on a FaceTime call with Braun and West. The photo previously included the caption, "Taylor Swift what up," which has since been removed.
https://www.instagram.com/p/BImWNPuBnXq
Swift went on to write, "Now Scooter has stripped me of my life's work, that I wasn't given an opportunity to buy. Essentially, my musical legacy is about to lie in the hands of someone who tried to dismantle it. "This is my worst case scenario. This is what happens when you sign a deal at fifteen to someone for whom the term 'loyalty' is clearly just a contractual concept. And when that man says 'Music has value', he means its value is beholden to men who had no part in creating it."
The "ME!" singer's Tumblr post ended on a positive note, indicating that the terms of her deal with her new label give her the rights to her work, including her forthcoming album, Lover.
Swift fans also seem to have found evidence supporting Swift's claims that Braun's purchase was a way to bully the singer. In a now-deleted post, Braun re-Instagrammed a post by friend David Grutman that shared an article of the Big Machine purchase news with the caption, "WHEN YOUR FRIEND BUYS TAYLOR SWIFT!!! @scooterbraun." Notably, Braun has not deleted other congratulations messages about his deal.
https://twitter.com/udfredirect/status/1145628057493004289
Of the people involved, Braun, Bieber, and Borchetta have spoken out on social media. Bieber shared a throwback photo of himself with Swift and both apologizing for his 2016 post, as well as defending Braun.
https://www.instagram.com/p/BzWYdS9Hj5R
Braun reposted several articles announcing the acquisition to his Instagram Stories, and posted a photo of himself with Borchetta, writing that he's "genuinely grateful" for his new partner.
https://www.instagram.com/p/BzVqLqZHJAS
Borchetta wrote a blog post himself, alleging that Swift was aware of the potential for her masters to be sold, writing a text in November 2018 that said, "Owning my masters was very important to me, but I've since realized that there are things that mean even more to me in the bigger picture…What we accomplished together will be a lasting legacy and a case study on excellent partnerships, and may it continue. I still view you as a partner and friend and I hope you feel the same."
https://www.instagram.com/p/BzWxVHfg-kP
Soon after the news broke, several celebs came forward on social media to offer their support for both Swift and Braun.
Halsey posted a message on Twitter, writing, "Taylor Swift is a huge reason why I always insisted to write my own music. I believed if she did it (in a way that made my teeth ache like cold water and my heart swell and my eyes leak) than I should too…She deserves to own the painstaking labor of her heart."
Lovato, a new client of Braun's, posted a message in her Instagram Stories, writing, "I have dealt with bad people in this industry and Scooter is not one of them. He's a good man. Personally, I'm grateful he came into my life when he did. Please stop 'dragging' people or bullying them. There's enough hate in this world as it is."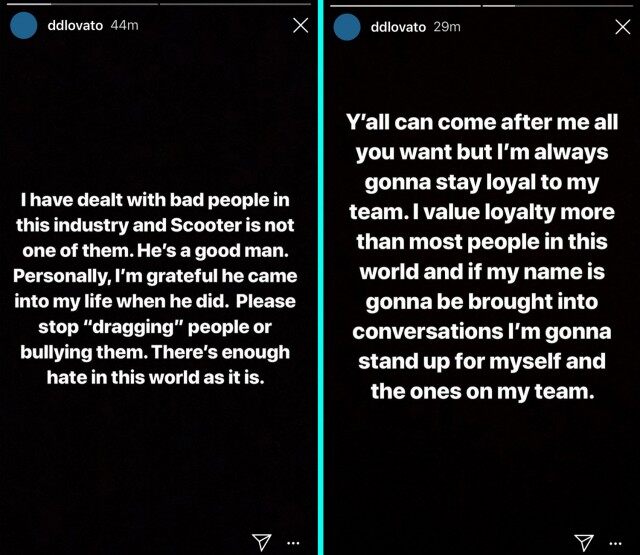 Entertainment Tonight reports that several of Swift's friends, including Cara Delevingne and Martha Hunt, posted messages supporting Swift, with Delevingne writing a since-deleted comment on Bieber's post, calling him out for "sticking up for men" after Bieber's wife, Hailey Bieber, commented on the post, writing, "gentleman."
Todrick Hall, a longtime friend of Swift's, also posted several messages of support for her on his Twitter page, calling Braun an "evil person who's [sic] only concern is his wealth and feeding his disgusting ego," adding, "I believe he is homophobic & I know from his own mouth that he is not a Swift fan."
Braun's wife, Yael Cohen Braun, posted a message to her Instagram page, letting Swift know that she is "here to talk privately anytime."
https://www.instagram.com/p/BzWfMAWAIkE
ET also reports that artists like Nicki Minaj, Miley Cyrus, Lana Del Rey, Selena Gomez, Rihanna, and Adele have unfollowed Braun on social media in the immediate aftermath of Swift's post. Neither Kardashian nor West have commented on the controversy.
Stay tuned for more on this feud.