Taylor Swift's public plea for help with Scooter Braun drama seems to have worked, and now we all win
Update, November 19th, 9:10 a.m. ET: We have to thank all the Swifties for their work. Taylor Swift reportedly will be able to perform a medley of her greatest hits at the American Music Awards, where she will be crowned Artist of the Decade—the first woman to achieve the honor.
Despite its non-specific language, this statement seems like a direct response to Swift saying that Scooter Braun and Big Machine CEO Scott Borchetta were blocking her from performing her songs because it would be a way to "re-record" her music before she's allowed to next year. Now, if this statement is to be believed, Swift should be able to perform her medley as planned.
On November 14th, which feels like a zillion years ago now, Swift tweeted an SOS for people to help her call out Braun and Borchetta for their actions. Celebrities ranging from Selena Gomez and Gigi Hadid to Elizabeth Warren and Cher showed their support for the musician.
Watch Taylor Swift take home Artist of the Decade and swoon over "All Too Well" in the medley (we can only hope) this Sunday, November 24th, at the 2019 AMAs.
Update, November 18th 2:00 p.m. ET: This story has been updated to include more celebrity reactions to Taylor Swift calling out Scooter Braun over her American Music Awards performance.
In July 2019, music manager Scooter Braun purchased the masters of all of Taylor Swift's tracks that she recorded under her former music label, Big Machine Label Group. Swift was with Big Machine, which she accused of unfair treatment, from 2006 to 2018. Therefore all her hits, save for those on her Lover album, are now in Braun's control. And he recently reminded Swift of that with a movie villain-style move, and she's coming for him with the help of her Swifties.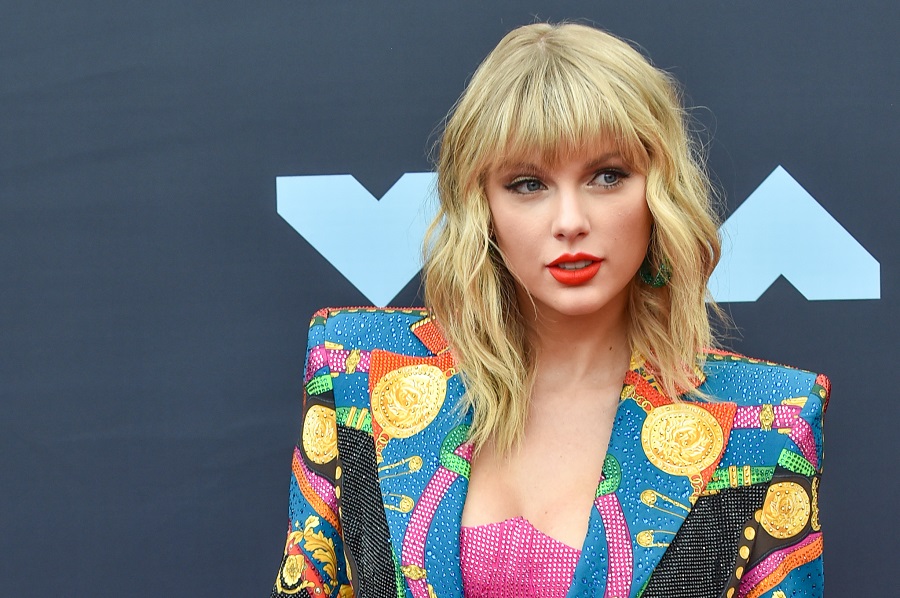 On November 14th, Swift informed her fans and followers that she had planned to perform a medley of her greatest hits at the upcoming American Music Awards, during which she is slated to be honored with the Artist of the Decade Award. But Braun and Big Machine CEO Scott Borchetta have put the kibosh on those plans.
According to Braun and Borchetta, performing a medley would be a way for Swift to re-record her tracks, as she planned to do in 2020, earlier than agreed upon.
But that's not the only way Braun and Borchetta are controlling Swift with their firm grip on her masters.
The only way Braun and Borchetta will allow the use of Swift's music in any project she has lined up if she agrees to abide by the following two rules: If Swift agrees to "not re-record copycat versions" of her songs ("which is something I'm both legally allowed to do and looking forward to," she adds) and also if she tells her team to stop talking about both Borchetta and Braun.
"The message being sent to me is very clear," Swift wrote. "Basically, be a good little girl and shut up. Or you'll be punished."
"This is WRONG. Neither of these men had a hand in the writing of those songs," she continued. "They did nothing to create the relationship I have with my fans."
She then called upon her fans to help right this wrong. "Let Scott Borchetta and Scooter Braun know how you feel about this," she said.
By reaching out to other artists that Braun manages, including Ariana Grande, Justin Bieber, and Demi Lovato, Swift believes that she and her fans can "talk some sense" into these two bullies. "I just want to be able to perform MY OWN music. That's it," she said, adding that her attempts to handle this privately have gone up in smoke.
Now, musical artists, other celebrities, and fans alike are tweeting using the hashtag #IStandWithTaylor to show the singer their support.
false
Camila Cabello and Selena Gomez weighed in via their Instagram Stories.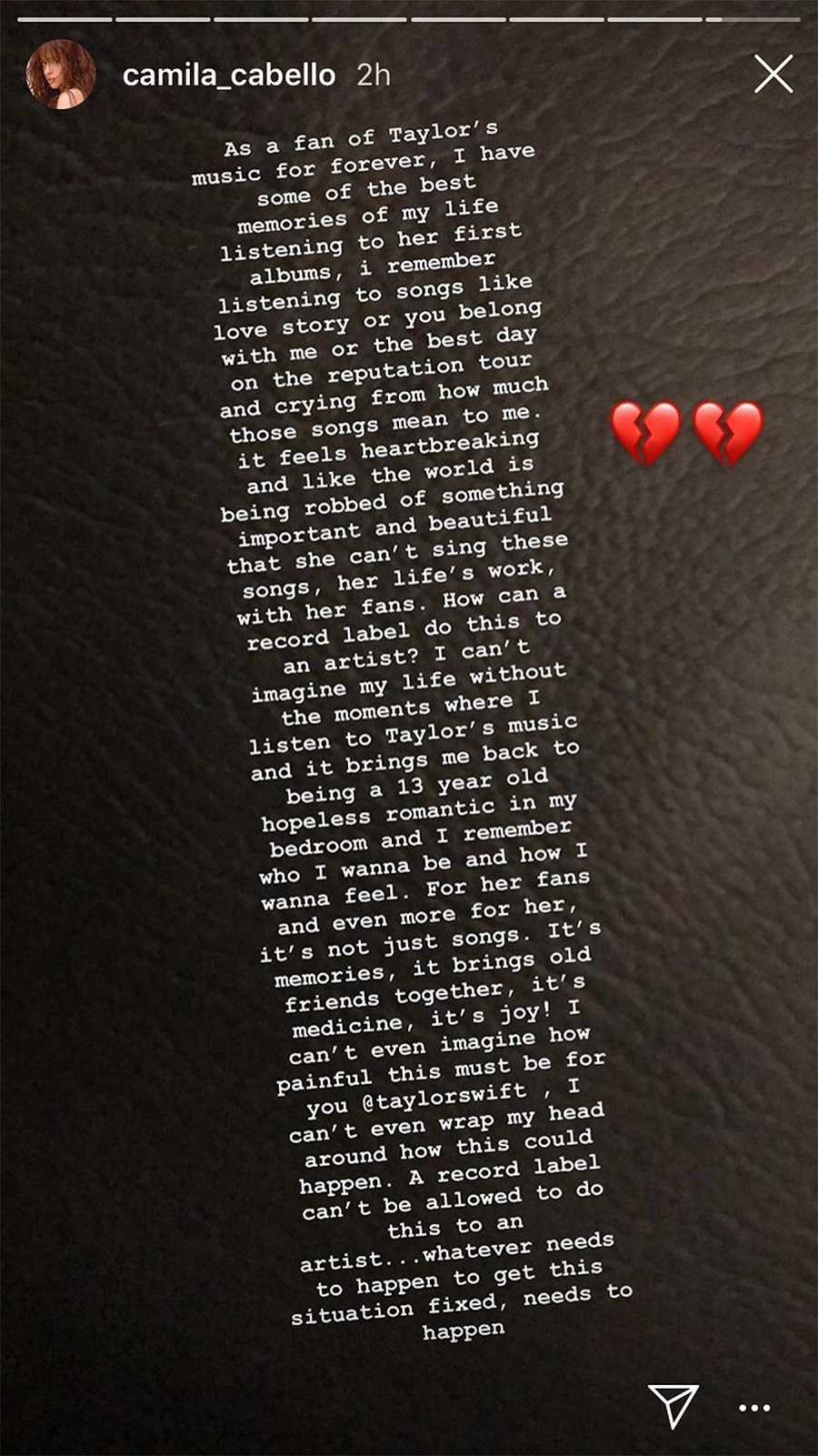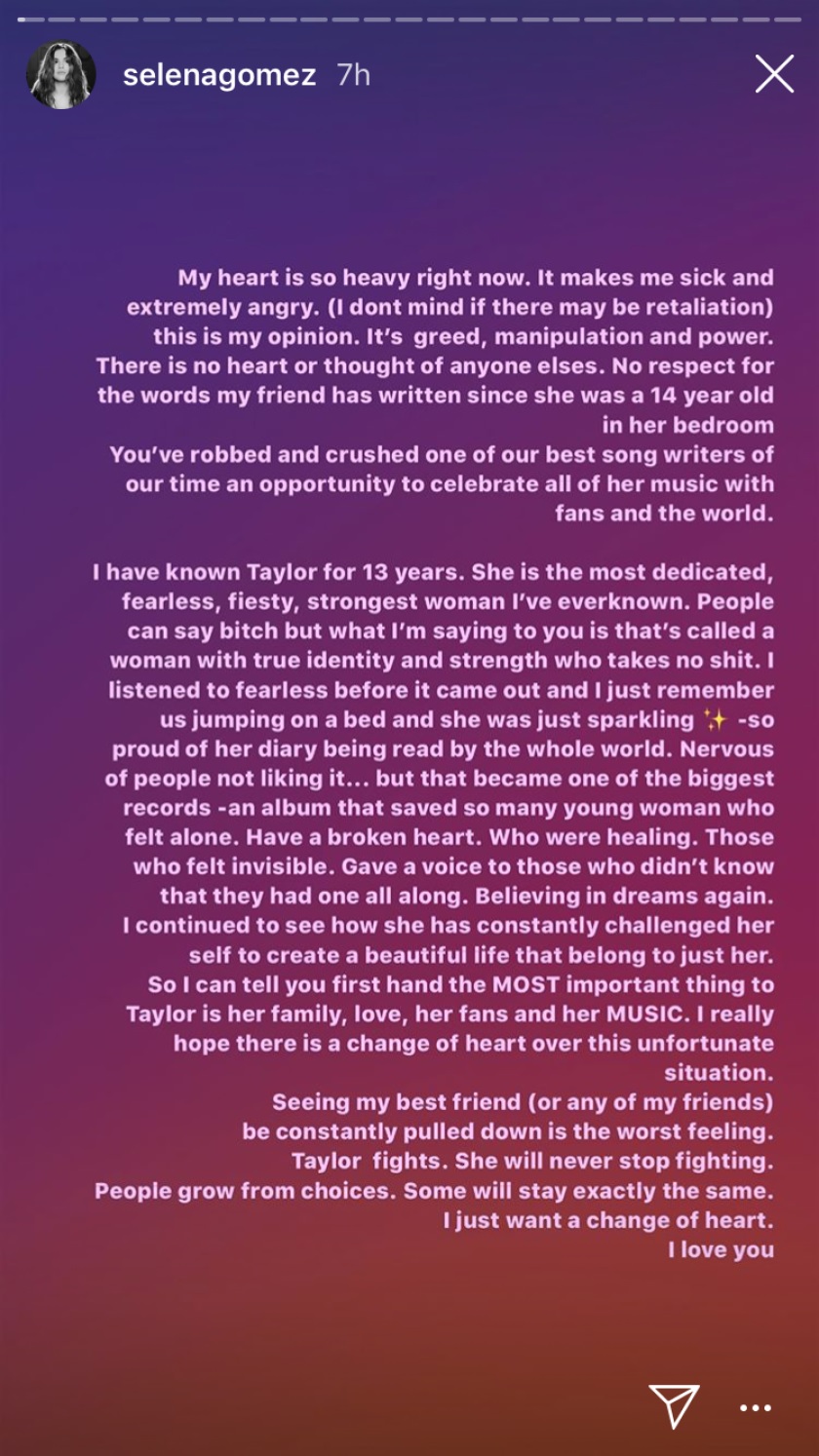 Halsey even recorded herself covering Swift's "Mean" to show her support for her fellow woman artist.
Friday, November 15th, Big Machine released a statement regarding Swift's allegations, and said she shared "false information" with her fans via social media.
Big Machine then went on to spin their own story. "The truth is," the label continued, "Taylor has admitted to contractually owing millions of dollars and multiple assets to our company, which is responsible for 120 hardworking employees who helped build her career…We started to see progress over the past two weeks and were optimistic as recently as yesterday that this may get resolved."
The label then asked Swift for "direct and honest conversation" in order to end the festering of rumors. Obviously, the battle is just heating up.
We'll be following this story as it continues to unravel.
Originally published November 15th, 2019.