Taylor Swift returned to Instagram after a long hiatus to support pal Selena Gomez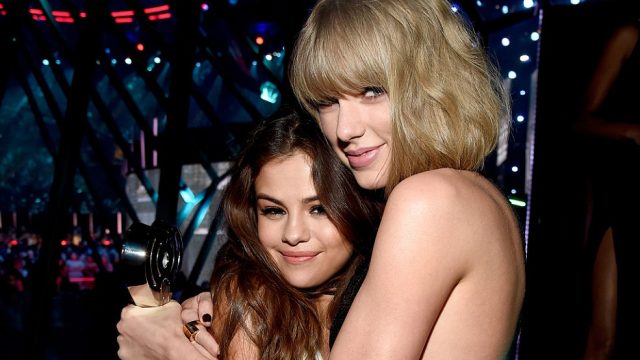 While she seems to be laying low these days, Taylor Swift emerged on Instagram for a pretty solid reason. Pal Selena Gomez just released brand new music, and it seems like Swift is a big fan.
Swift, who used to be extremely active on Instagram, has been pretty quiet these days. Besides the post today for Gomez, the last time she decided to share a photo was back in May, to advertise the fact that she was listening to a song by Haim "On.Repeat.Til.The.End.Of.Time."
But, she must have switched over to Gomez's latest track today, since she posted art for Gomez's newest song "Fetish."
https://www.instagram.com/p/BWfZgd8HXIi
And as expected, she had equally kind words to say.
"Sultry pop magic from this dreamy almost-birthday-girl 👏👏👏👏👏👏👏👏👏👏👏👏👏," she captioned the photo.
Selena Gomez will be turning 25 on July 22nd, and she's obviously got a lot to celebrate this year. Her new album, which is a follow-up to her 2015 release Revival, is expected to come out soon. And, of course, she's also got a pretty sweet romance going on with The Weeknd.
As for Swift's silence, she's been quiet on all social media fronts. Her last tweet was in May to pay tribute to the victims of the Manchester tragedy, but before that, she last used the social media platform in January. As many have pointed out, it looks like Swift also didn't have a Fourth of July party this year — which is a bit uncharacteristic.
Still, we're glad that she still considers herself to be close to Gomez. The two have been connected since 2008, and have even performed on stage together — and by posting on Instagram after such a long pause, it just shows how solid their bond still is.