Taylor Swift's Reputation Stadium Tour was the most fun I ever had, and I'd do it over and over and over again if I could
Last fall, I participated in #TaylorSwiftTix to buy Reputation Tour tickets. Nearly eight months later, on Saturday, July 21st, all of my dreams finally came true: I got to see Taylor Swift live in concert during her Reputation Stadium Tour. Though after seeing her perform for the first time (finally), I don't know if "concert" is the right word to describe what Taylor does on stage. She puts on a true spectacular. By now, you may have seen pictures from her stadium tour setup: the flames, the outfit changes, the larger-than-life snakes (plural), the flying mechanisms that take her around the entire stadium, the literally tilted stage that she references in Look What You Made Me Do. But pictures and videos hardly do it justice. Especially when it's all happening in the pouring rain, like it did last night. So, if you're wondering what it's like to see Taylor live and in concert during her Reputation era, consider this your official Reputation Tour review.
Saturday's show at MetLife Stadium in East Rutherford, New Jersey was the second of three she performed over the weekend. The rain was never a question; it was clear that it was in the forecast for the entire evening. Openers Charli XCX and Camila Cabello performed in the rain, which only picked up as the night went on. The crowd was a sea of plastic ponchos. Taylor knew it was going to be a wet show. So instead of praying for it to pass, she embraced it. From the moment Taylor stepped on stage, she sang, danced, and played her heart out. And, honestly? I think she had even MORE fun as a result. So did the crowd.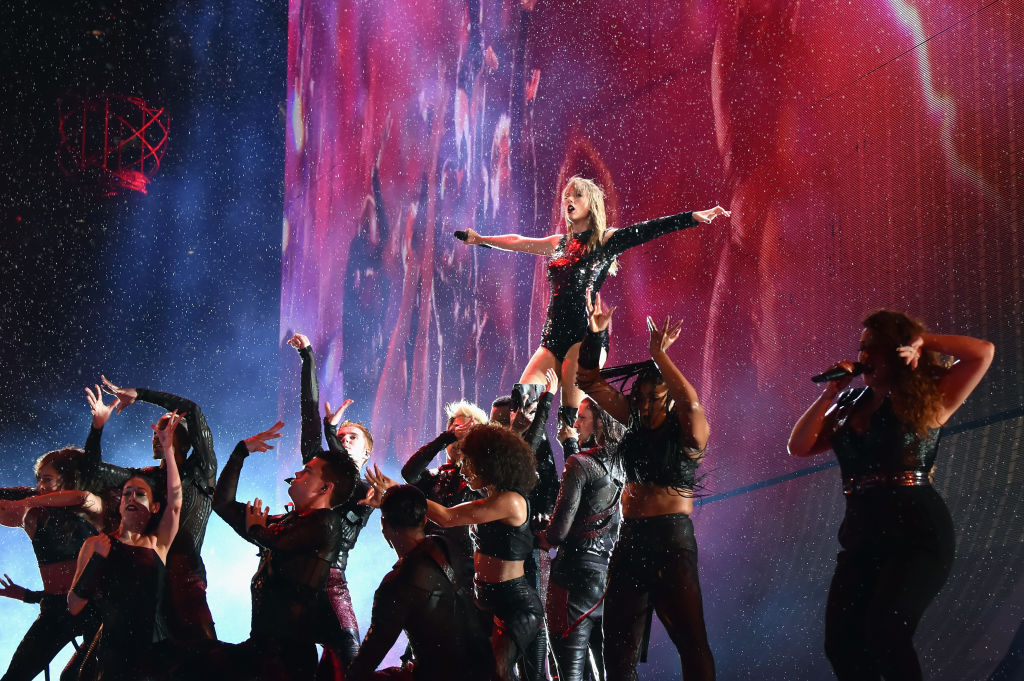 After opening with "…Ready for It?" and "I Did Something Bad," Taylor paused to acknowledge that "your real friends show up in rain or shine," a cheeky nod to her Reputation lyric "Here's a toast to my real friends." And she was right. Nobody ran for cover. Nobody watched from the concessions stands. Taylor came to dance and sing in the rain, so we did, too.
Then, after treating the crowd to one more Reputation song ("Gorgeous"), Taylor switched gears. She took us back a few years to her 1989 era with "Style." But then, the first REAL throwback came. When the recognizable country beat dropped for "Love Story," everyone went absolutely wild. And when she mashed it up with "You Belong with Me," the Fearless stans (ME!) all but passed out from excitement.
After the quick trip back to 2008, Taylor brought it back to 2018 with "Look What You Made Me Do" — complete with a gigantic snake and a hilarious video cameo from Tiffany Haddish, who delivered the line about the Old Taylor being dead. After "End Game," "King of My Heart," and "Delicate" (which she sang while flying above the crowd to another stage in a different part of the stadium), Taylor switched things up yet again. But not before addressing the rain again, calling the night "a once in a lifetime concert."
Charli XCX and Camila Cabello came back to sing "Shake it Off," and then Taylor slowed things down. She thanked us yet again for coming out to see her perform on such a wet night. From there, things got acoustic: She grabbed a guitar and sang an unplugged version of "Dancing with Our Hands Tied." Then, where some of her Reputation Tour setlists included the beloved ballad "All to Well" from her Red era, she made a last-minute switch and surprised the audience with "Fearless" — a song that, fittingly, references dancing in the rain.
From there, she walked — yes, walked, as if it was the most casual thing ever — through the crowd to reach yet another stage on the other side of the stadium. The moment symbolized a lot about Taylor's love for her fans: She wanted to see, meet, and interact with as many people as possible. And despite her, ahem, reputation, I truly believe that she genuinely cares about her Swifties. Walking through the crowd was yet another way to give her fans what she could of herself.
On the third stage, the era callsbacks got serious. After "Blank Space" and "Dress," while making her way back to the main stage (flying above the crowd in yet another giant snake), she mashed up "Bad Blood" and "Should've Said No," a song from her very first album. Reader, I screamed. If there had been a roof on the house, Taylor would've blown it clear off. And if it didn't happen then, it would've happened during the next song, "Don't Blame Me."
In the most emotional part of the night, Taylor sat down at the piano to play "Clean" (another rain song!), "Long Live," and, finally, "New Year's Day." I cried. Everyone around me cried. I even think Taylor cried.
For her grand finale, Taylor ended strong with three Reputation songs: "Getaway Car," "Call It What You Want," and "This is Why We Can't Have Nice Things." She even mashed the last song up with "We Are Never Ever Getting Back Together," which was a final nice surprise for Red era fans.
Here's my Reputation Tour review: Taylor Swift is a dynamite entertainer.
She sang, danced, and played her heart out in the pouring, unrelenting rain. For over two hours. There were no special guests. There was no squad presentation. It was just us and Taylor, deciding not to let the bad weather get us down, choosing to have the best night of our lives.
I was struck by just how grateful Taylor was for not just the crowd, but for everybody in the arena. Throughout the concert, she took the time to introduce us to her band, her backup singers, and her dancers. She thanked everybody behind the scenes for helping her put on the show — and one that went off without a hitch in the pouring rain, at that. Taylor never made heart hands, but she didn't have to. We knew.
When all was said and done and the lights came back on, a message quickly flashed on the screen: "And in the death of her reputation, she felt truly alive." The Old Taylor may be dead, but a part of her definitely lives on in her new reputation. Thank you, Taylor, for an unforgettable night. And for always reminding me that instead of hiding under an umbrella, it's much more fun to dance in the rain.