Taylor Swift pointed directly at BF Joe Alwyn while singing "Gorgeous" during the Reputation tour's opening night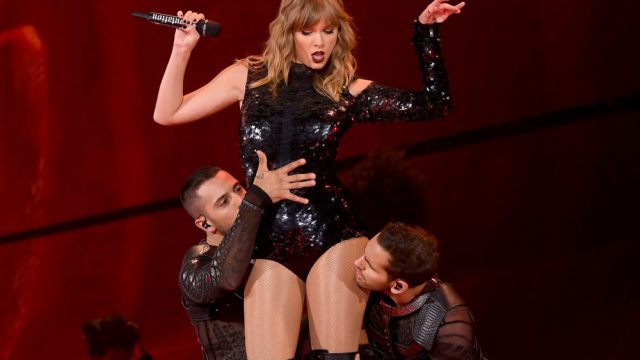 After months of preparation and excitement, Taylor Swift finally kicked off her Reputation tour in Glendale, Arizona last night on May 8th, and it seems like the show was everything fans hoped it would be — and more. There were countless outfit changes, sparkly microphones, and, oh yeah, just a casually huge reference to her boyfriend, Joe Alwyn. No big deal, but Taylor pointed directly at Joe last night while singing "Gorgeous." And it was BEAUTIFUL.
According to HollywoodLife.com, Joe sat in the VIP section, where he tried to keep a low profile. Taylor, at least, seemed to know exactly where he was, and she singled him out at the absolute perfect moment. As she finished singing the song, she pointed directly in his direction and smiled knowingly for several beats. false false
In case you're just catching up, "Gorgeous" is a song about how Taylor met someone she was instantly attracted to and knew she wanted to date. Back in October, she confirmed it was about Joe.
The same fan tweeted about how adorable the couple seemed, even with a crowd of people between them, posting, "Y'all I was literally in between them and Taylor was winking and pointing and Joe was blushing and videoing her so much and I just really felt the love and sexual tension on a whole other level for 2 entire hours #reptourglendale" 
She also captured Joe dancing along to the songs, clapping hard for his girlfriend, and generally just being sweet and supportive.
https://twitter.com/udfredirect/status/994117285638897665
Another fan caught a shot of him as well:
Taylor and Joe began dating in 2016 and have always been low-key about their relationship, so we're loving this glimpse into their dynamic.
false
Here's hoping every show on the Reputation tour as special as this one!