Taylor Swift just debuted her new surprised face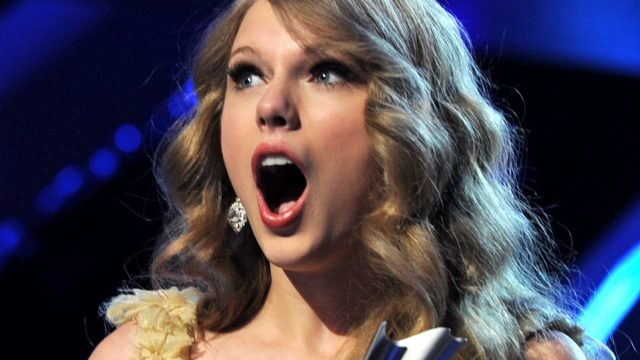 Everything about the "Old Taylor Swift" is gone — including her surprised face. "New Taylor" debuted her updated surprised face after she won Song of the Year for "Better Man" at November 8th's Country Music Awards. And we're not going to lie — Swift's new face is, well, a bit surprising!
Swift couldn't attend the Country Music Awards because she's currently in New York rehearsing for Saturday Night Live. But she tuned into the ceremony from her hotel room and a friend caught her reaction to the big win ("Better Man" is a song Swift wrote for Little Big Town).
The face falls somewhere between shock and anger. Swift's jaw is locked tight and her eyes bulge out at whoever is sitting next to her. It's not a face you'd expect from the girl who almost always sported the Home Alone open-mouthed, face-in-hands expression when her name was called at awards shows.
You know what we're talking about. It's the same face zombie Swift makes fun of "You Belong With Me" Swift for in the music video for "Look What You Made Me Do."
Remember? Zombie Swift says, "Stop making that surprised face. It's so annoying." And then "Shake It Off" Swift says, "You can't possibly be that surprised all the time."
Anyway, out with the old, in with the new! Is this what we can expect from surprised New Taylor from here on out?
Swift's face is honestly the same face we gave to our friend last week after they put our name into the karaoke lineup without our knowing.
If this new T-Swift look is here to stay, music awards shows just got a lot more interesting (and a wee bit scarier).