The trailer for Taylor Swift's documentary Miss Americana is here and it reveals SO much
It's a big day for Taylor Swift fans. Not only did we get the news that Swift is dropping a brand-new song that she's been keeping in her music arsenal for two years, but the trailer for her revealing Netflix documentary Miss Americana is here. There is so much to unpack, including a Joe Alwyn cameo and Taylor dropping the F-bomb. (Seriously!) Let's get into it.
First of all, it looks like Swift is done playing by "nice girl" rules.
Miss Americana will delve into the singer's late entrance into socio-political activism and speaking out against the sexist treatment and lack of respect she receives as a woman in the music industry.
"Label executives would just say, 'A nice girl doesn't force their opinion on people. A nice  girl smiles and waves and says thank you.' I became the person everybody wanted me to be," she says in the trailer. "I had to deconstruct an entire belief system, toss it out, and reject it."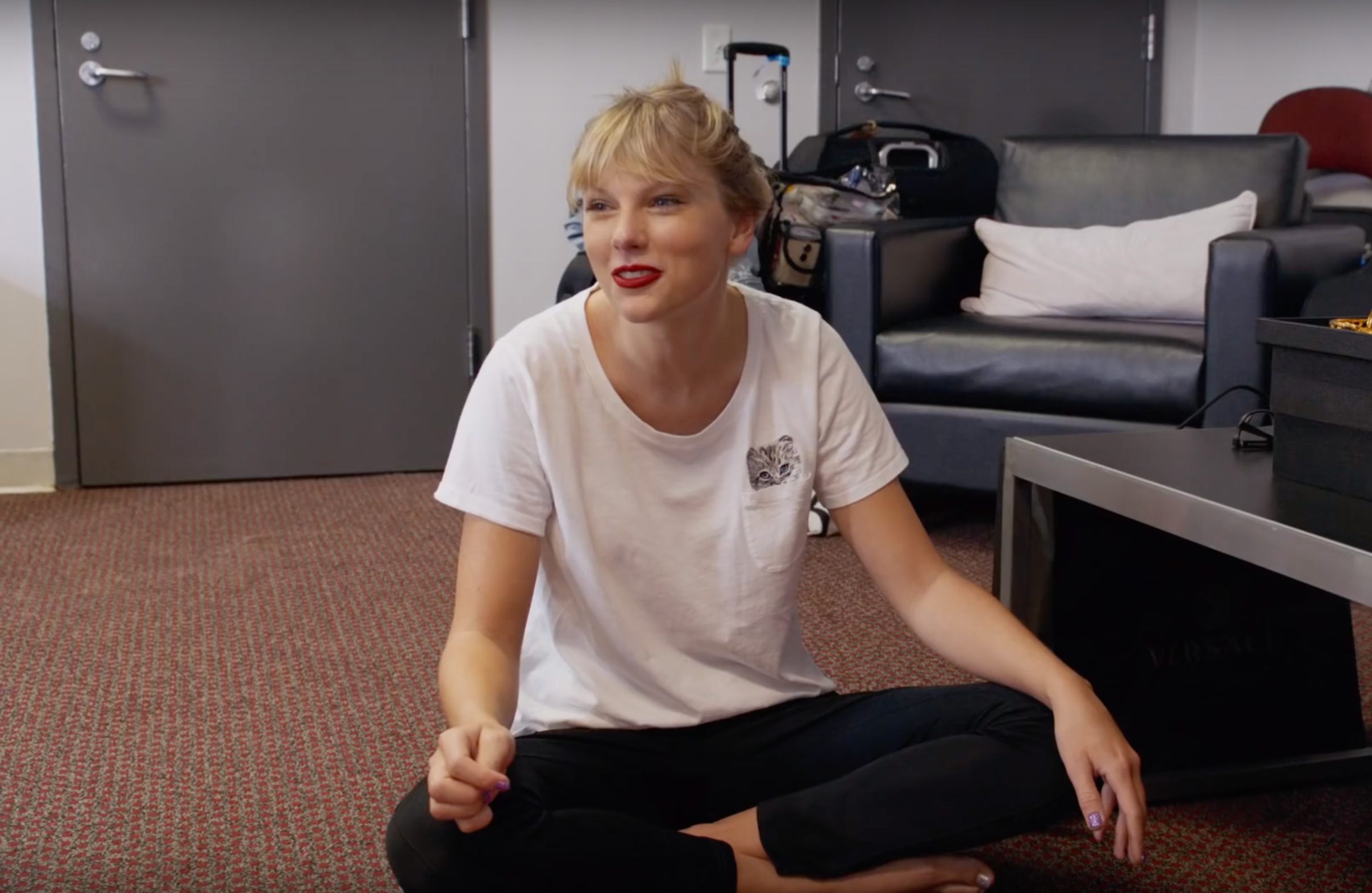 Swift does recognize that she played a role in her silence, especially toward issues she's passionate about. "I feel really good not being muzzled anymore. And it was my own doing," she says, as we hear clips of her songs from Lover.
We get to see some of Taylor that she's previously kept hidden from the camera.
Yes, that means we see (for real) Joe Alwyn. He seems to have inspired so many of her songs from Lover, so we had hoped he would make a cameo. Toward the end of the trailer we see Swift run off stage and hug her boyfriend of "three summers." It's frankly adorable.
And, um, did we hear the singer drop an F-bomb?
"It feels fucking awesome," Swift says when she's talking about finally opening up about her beliefs and her feelings. See all this, plus her cat backpack, in the Miss Americana trailer below.
As for that new song? In her Variety cover story interview, Swift reveals that Miss Americana will showcase the song she wrote and recorded during her Lover album sessions. It was ultimately held back from the (already 18-track-long) album, and Swift kept it a secret until it felt like the right time to release it. The politically charged song aligns with her message and story on Miss Americana, so director Lana Wilson decided the documentary was the perfect space for us fans to first hear the song.
Swift explains to Variety that "Only the Young" was inspired by her frustrations with the 2018 midterm elections. We didn't hear the song in the trailer, but luckily for us, we have the first snippet of lyrics to digest now.
"You did all that you could do / The game was rigged, the ref got tricked/ The wrong ones think they're right / We were outnumbered—this time, Swift sings.
The 2018 midterm elections were the first time Swift became explicitly involved in politics. The singer endorsed several candidates in the senatorial and gubernational races in Tennessee, but, unfortunately, didn't ultimately succeed.
Swift noted that the song will be available for download and streaming (timing hasn't been confirmed yet, but we're guessing it'll coincide with the documentary's release). So, mark your calendars for not only the premiere Miss Americana, but for the debut of "Only the Young" on Netflix on January 31st, which is shaping up to be our new favorite date.