Taylor Swift just took on the Mannequin Challenge and it's EPIC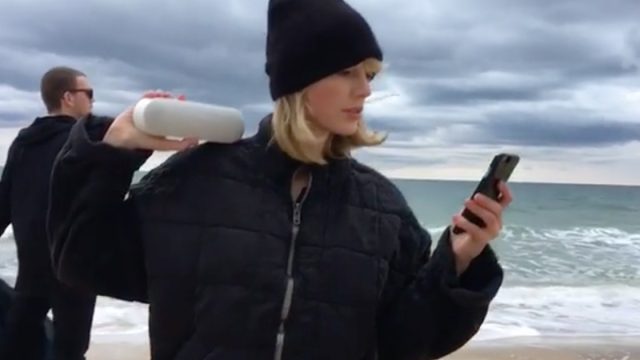 It was only a matter of time before Taylor Swift took on the Mannequin Challenge, and the results are pretty epic.
We've seen some pretty amazing Mannequin Challenge videos. From Britney Spears and her dancer's amazing version, these adorable four-year-olds attempting it, these dogs giving it a go, Hillary Clinton's amazing version, and even Destiny Child's reunion one, people (and animals) are really obsessed with this viral video challenge.
Well, for Thanksgiving, Taylor Swift and her friends attempted the challenge on the beach and it's pretty great.
Joined by her brother Austin, along with Martha Hunt, Lily Donaldson, Todrick Hall, and  Leah McCarthy, Taylor and the gang gave their own wind-swept interpretation of the viral challenge.
https://www.instagram.com/p/BNNwuDUhET2
In a twist, however, the group then decide to give up on the challenge and hold a dance party on the beach instead. It looks SO fun. Taylor is really showcasing her signature dance moves, and it does look pretty chilly on the beach…we think we might have to bust a move just to warm up.
While she might be known for her Fourth of July parties, it seems that Tay Tay also knows how to host a rather lovely Thanksgiving soiree, too.
While we didn't get a peek at Taylor's Thanksgiving spread (we imagine she makes a pretty good turkey though), the singer did share some cute AF Insta posts of her and her friends frolicking on the beach and it looks pretty magical.
https://www.instagram.com/p/BNNk9TiB64m
https://www.instagram.com/p/BNNlC_aBKz9
https://www.instagram.com/p/BNNk5qSBvLs
https://www.instagram.com/p/BNNlH-ThhA3
We really obsessed with everyone's fall aesthetic, tbh. They all look so cosy, despite the fact that it looks FREEZING on that beach.
Earlier this week it appears that Taylor dropped by Broadway to support her friend Todrick Hall, who is currently starring in Kinky Boots: The Musical.
https://www.instagram.com/p/BNLoBZZBvof
"Went to see @todrick in Kinky Boots tonight and you just need to go see it. Not trying to be bossy. But you need to. Congrats also to Haven Burton, Aaron C. Finley and the rest of that RIDICULOUSLY FLAWLESS CAST," Taylor wrote.
Hall plays the role of Lola, and if this video of him performing is anything to go by it looks like one amazing show.
https://www.youtube.com/watch?v=rXI-6a-29-c?feature=oembed
We know how hard it is to dance in heels, so we have to say we're SO impressed with Todrick's performance.
By the looks of it, Taylor has had one amazing Thanksgiving.