Fans Think a New Taylor Swift Song Is About Joe Jonas and Sophie Turner
No T-Swift lyrics are accidental, people.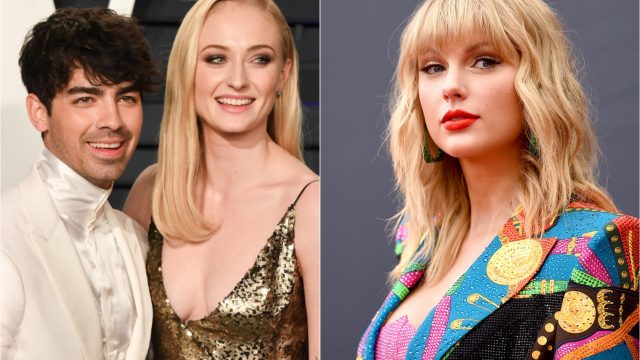 At midnight on July 24th, Taylor Swift dropped her surprise eighth studio album, Folklore, and per usual, Swift planted a variety of Easter eggs throughout her tracks. Fans think one such Easter egg is a tribute to Joe Jonas's rumored venture into fatherhood.
According to Entertainment Tonight, Swift wrote in a YouTube comment, "One thing I did purposely on this album was put the Easter eggs in the lyrics, more than just the videos. I created character arcs and recurring themes that map out who is singing about who." So, when Swifties got to Track 11, "Invisible String," they couldn't help but think the lyric, "Cold was the steel of my axe to grind / For the boys who broke my heart / Now I send their babies presents," is about Jonas and his wife, Sophie Turner.
Although Jonas and Turner have not yet gone public with a pregnancy announcement, paparazzi photos and inside sources point to an almost fully baked bun, if you catch our drift.
As does this line…Taylor! Did you just do what we think you did?
Obviously, the idea of this Taylor Swift-Joe Jonas lyrical link in 2020 is sending the internet into a tizzy. According to a Billboard timeline, Swift and Jonas dated from July until October 2008, almost exactly 12 years ago. Since then, she's written several songs that fans have tied to the Jonas Brothers singer, including the classic, "Forever and Always." Now, with "Invisible String," the nostalgia is palpable.
The full surprise album, Folklore, is currently available for purchase and streaming. There are 16 tracks, all with a folk vibe, and as Swift confirmed, all have hidden meanings, stories, and characters behind the lyrics. It's a glimmer of light in a dim 2020, for sure.