Here's some photos from past Taylor Swift July 4th bashes, because who knows if she's off the grid this year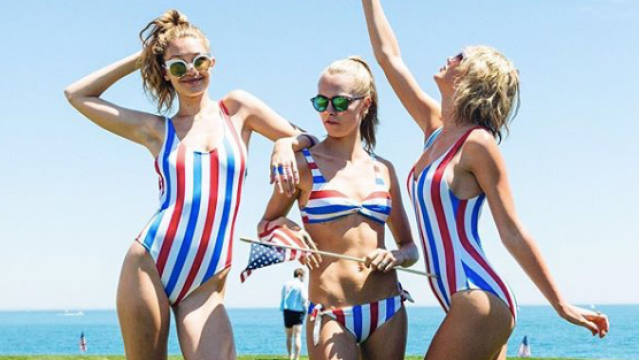 Where in the world is Taylor Swift? After the smash hit 1989 and subsequent world tour, the singer has taken a big step back out of the public eye, probably to enjoy some much-needed privacy and R&R. This begs the all-important question, however: Will Taylor Swift throw a July 4th party this year, or won't she?
T-Swift's annual Independence Day bashes are the stuff pop-culture dreams are made of, boasting star-studded guest lists and seemingly endless fun activities. Will evidence of an equally epic celebration pop up on Instagram this July 4th, or will Taylor stay out of the limelight this year?
Time speculates that the "Blank Space" singer will indeed be partying alongside her favorite stars (and stripes? Bad patriotic joke?) this year and that we'll see the usual mix of Victoria's Secret angels, cool singers, and Swift's longtime friends in attendance.
In case you've forgotten what Swift's Fourth of July parties are like, here's your quick and helpful refresher:
1Patriotic outfits and power poses
https://www.instagram.com/p/BHfV9uODLmv
You can definitely expect to see some truly beautiful people in star-spangled swimwear at a T-swift July 4th event.
2 Jump shots for the win
https://www.instagram.com/p/4sUtwkDvI4
Is it even a T-swift party if there isn't a joyful jump shot with the squad? The jury is still out.
3Cute couples
https://www.instagram.com/p/BHfbTikDYx5
While ex-beaus Calvin Harris and Tom Hiddleston probably won't make appearances this year, what is a summer evening without a few cuddles on a front porch?
4 Slides
https://www.instagram.com/p/qHS9XDDvAt
An impromptu downhill slip'n slide in the summer rain? We're listening.
5 An assortment of baked goods
https://www.instagram.com/p/qA2tgBDvHV
Taylor's love of baking is no secret, so we fully expect her to spend some time whipping up some patriotic confectionary in the kitchen this year.
6Ed Sheeran
https://www.instagram.com/p/4uVunpjvAG
We hope singer Ed Sheeran brings his red coat again this year.
7MORE. PATRIOTIC. OUTFITS.
What, you thought we were kidding?
8 Fireside chill sessions
Winding down by the fire after a long day of fun sounds exactly how we'd like to spend Independence Day.
9 Much-needed ocean time
https://www.instagram.com/p/BHfW4VLjh7R
Rule number one of T-swift extravaganzas: Frolic on the beach with friends and enjoy every moment.
While we still don't know what's in store this year, we're pretty confident it will be one for the books. We'll try not to excessively check Instagram while we wait to find out.