Taylor Swift shows that it's nice to have a friend in her Friendsgiving party pics
As far as enviable celebrity parties go, Taylor Swift's are pretty up there. Who could forget her famous Fourth of July bashes at her Rhode Island mansion, complete with inflatable water slides? Or her New Year's Eve celebration where Blake Lively dressed as Dorothy and Gigi Hadid dressed as Mary Poppins? Or perhaps the most iconic 25th birthday party ever—that one in her NYC apartment where Jay-Z, Beyoncé, and Justin Timberlake casually ate cake? When photos of these epic parties surface, we're always left fantasizing about attending them ourselves. As if we didn't want to be friends with Tay badly enough already.
Over the weekend, we were given another celebrity bash to dream about attending: Taylor Swift's Friendsgiving.
We had just gotten over the pictures and videos from Jennifer Aniston and Courteney Cox at Justin Theroux's Friendsgiving. Now, we can add another to the list of dinner tables we would give anything to earn a seat at. Swift's longtime bestie, Gigi Hadid posted a photo to her Instagram story of a smiley bunch of celebs with their arms wrapped around each other, including Martha Hunt, Queer Eye's Antoni Porowski, and Tay coyly sipping a glass of wine. Hunt reposted the photo to her own story, adding "love and miss y'all already."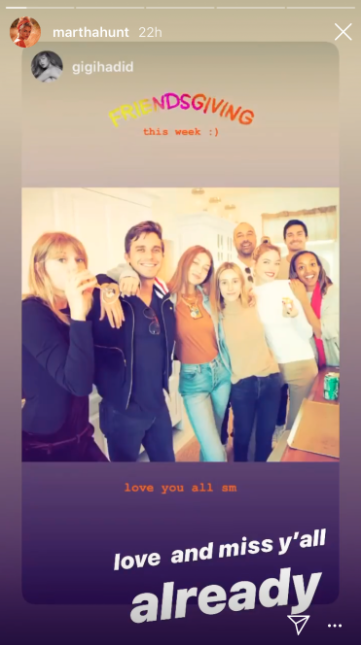 Do we spy a #DrunkTaylor meme in the making here? If we're being honest, this was our exact mood all of Thanksgiving day.
It looks like this adorable group of celebs had a casual and cozy Friendsgiving hosted by the host of all hosts, Swift. We knew Gigi and Antoni were pals from their time spent in NYC, but add Tay into the mix, and we've found our new favorite trio. Maybe we'll snag an invite to Swift's Friendsgiving next year. Fingers crossed.