Taylor Swift is wearing these Free People joggers in that suspicious quarantine photo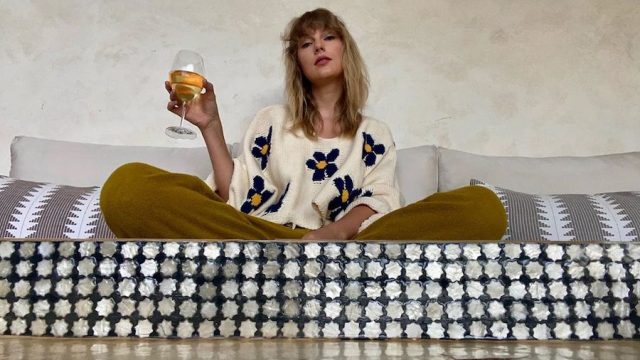 Every time Taylor Swift does anything, speculations run wild. It's for good reason: The singer is known for hiding Easter eggs about her new music everywhere, from her TV commercials to her Instagram posts, and her fans are quick to turn into skillful detectives. So it's no surprise that when Swift recently posted what seemed to be just a classic quarantine photo (sitting on the couch, drinking wine) her followers were quick to pull out their magnifying glasses and start looking for clues. While we can't confirm or deny what the post means, we 100% know that we need the Free People joggers she's wearing.
Swift posted a photo of her unbothered, "biiig isolation" energy, sitting on her couch in a floral sweater and joggers. Unfortunately, her exact daisy sweater from Free People is sold out, but we found her joggers online, and we're putting them in our carts ASAP. The oversized sweats come in a cozy, textured material, like the inside of a sweatshirt—aka, the kind of the material we want covering our bodies all quarantine long.
The pants are available in the exact mustard-yellow Swift is rocking in the photo as well as a classic black and a cranberry red. Shop Swift's Free People slouch joggers right here: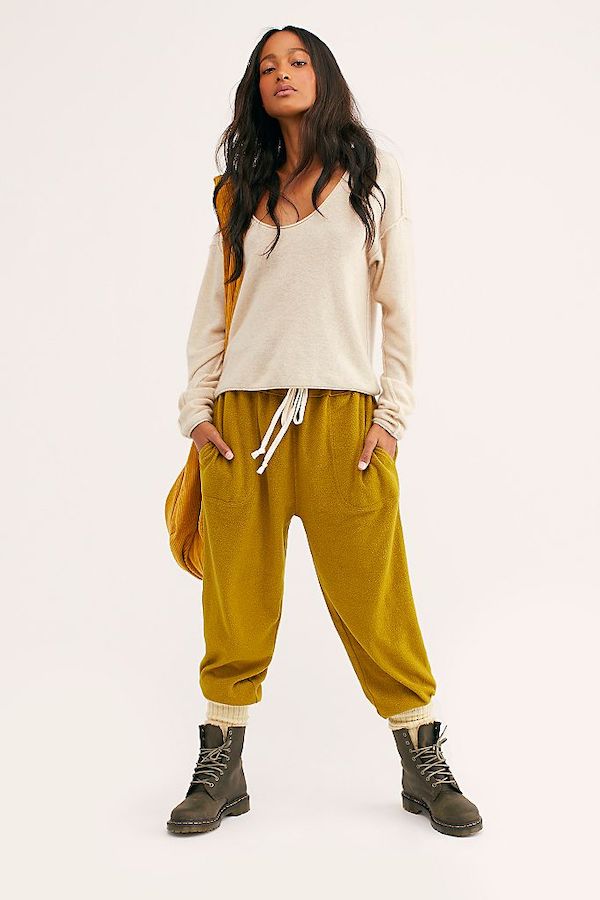 We were so envious of Swift's perfect stay-at-home outfit, we could have bypassed all of the suspicions her photo kickstarted.
The most popular theory about that post? That Swift is collaborating with Katy Perry on a new song. On Thursday, Perry shared an Instagram post, announcing that her new single "Daisies" from her upcoming album will be released on May 15th. She also shared the cover art for the song, which features Perry smiling and lying in a field of, yes, you guessed it, daisies. The title of the song is printed on the photo in a perky font, surrounded by a few abstract daisy graphics.
Just over an hour after the pop star and American Idol judge made her announcement about the song, Swift made a post herself in which she's wearing a daisy-print sweater that cozy pair of joggers. Fans were quick to point out the similarities of the daisy print on Swift's sweater to the art on Perry's photo. They even thought that the exact amount of time between the two posts, 85 minutes, could be a clue, connected to the length of Swift's Miss Americana documentary.
Another fan pointed out that the day of these posts marks the two-year anniversary of the day the two pop stars officially ended their years-long feud.
Here's Swift's post, for closer inspection.
If "Daisies" does drop as a collab on Friday, you'll be ready to jam out while staying comfy in T-Swift-approved style.