Taylor Swift is lurking on fans' Instagram lives, because THAT'S how you promote an album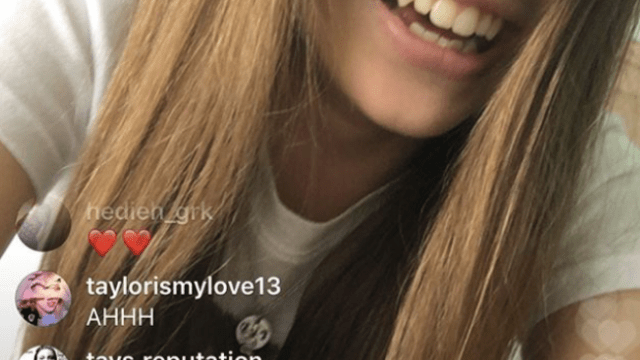 One of the reasons why Taylor Swift has such loyal ride-or-die fans is because Swift genuinely seems to interact with them on social media. She regularly leaves Tumblr and Instagram comments to fans and she once sent some of her fans Christmas presents. When Swift promoted 1989, she invited people to "secret sessions" album listening parties based on comments they had written on social media. And Swift does more than the typical radio tour or talk show circuit to promote an album.
Swift's upcoming album Reputation is due out November 10th, 2017, and to get the people going, she's been sliding into DMs and lurking on Instagram lives.
The best part is what Swift wrote to fans when she joined someone's Instagram live.
She's just out there tryna get noticed.
She liked someone's cat shirt.
false
She truly got emotional with this one fan.
false
She's also DM'ing people, which is naturally met with full-scale zero chill from those inboxes graced with her presence. false
She's VERY on brand with the cat emojis.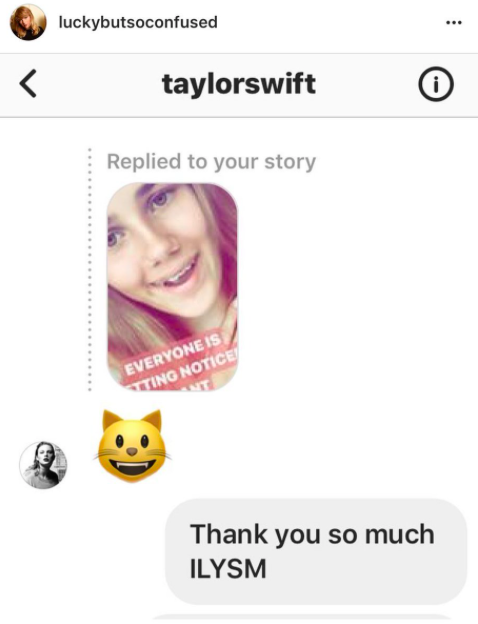 It's pretty cute seeing how genuinely excited these fans are to start a livestream only to learn that Taylor Swift has shown up AND she's commenting on it.
https://www.instagram.com/p/BaAQgxkjtWq
As we all know, Swift is a master when it comes to publicity and brand messaging, and while she's not the first celebrity to interact with fans on social media, this Instagram comment-spree is unique and now we're talking about her upcoming album, so…it worked!